PRETORIA, 20 March 2019 – Kajal Mistry slept on the lead for two straight nights and on Friday, she finished the job to lift the South African Women's Stroke Play Championship trophy for a second time.
And Mistry was not the only one to reach the winner's circle in wire-to-wire style.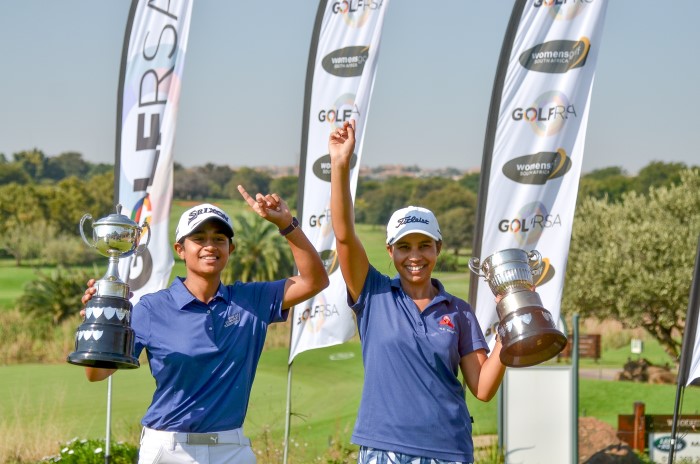 Randpark golfer Kajal Mistry (left) won the A-Division, while Kayla Paulsen (right) celebrated B-Division glory in the 2019 South African Women's Amateur Stroke Play Championship at Woodhill Residential Estate and Country Club; credit Ernest Blignault.
Western Province rising star Kayla Paulsen also led from start to finish at Woodhill Residential Estate and Country Club to seal a five stroke victory in the B-Division.
Mistry opened her campaign with a two-under-par 70 to share the lead with fellow GolfRSA Elite Squad player Caitlyn Macnab. She fired a stunning five-under 67 in the second round to start the final day four shots clear of Gauteng team-mate Symone Henriques.
Macnab was a further three strokes adrift in joint third with Boland junior Megan Streicher.
Mistry birdied three of her first five holes, but a bogey at par three 12th and double bogey at the par four 13th cut her advantage to three shots.
The 18-year-old Randpark golfer, who had been remarkably poised all week, shrugged off the back nine stumble and solid pars from the 14th hole allowed her to enjoy a long-awaited walk up the final hole.
A six-foot putt for par at the last for a final round 71 and a five shot triumph was celebrated with a water shower from her close friends and fellow GolfRSA Elite Squad team-mates.
"I really happy with the result and the way I managed my game around this tough course to win again," said Mistry.
"I played a really great round on day two to give myself a chance and I stuck to my strategy in the final round. When I won two years ago, it was the first time I experienced real pressure. This time around, I never felt under pressure and I could actually enjoy the win."
Henriques birdied the second and eagled the par five fifth, but Mistry responded with a trio of birdies.
The 2017 champion hit a knock-down pitching wedge into the second and holed the six-foot birdie putt, and rolled in a left-to-right tester from 10 foot at the fourth for birdie number two. "I was a little out of position on the left at the par five," said the Ernie Els and Fancourt Foundation member.
"I laid up with a 7-iron and I hit it about two metres past the pin. Symone was on the green in two and drained a 20 metre putt for eagle, but I got a good line from her and holed the birdie putt."
Mistry's lead dwindled to three shots after she dropped three shots at 12 and 13.
"That par three is really daunting from the elevated tee and the pin was front left and the last thing I wanted to do was go in the drink, so hit it way past the hole," Mistry said. "I lagged it close but the par putt just burned the edge.
"At 13, I hit a terrible tee shot left off the tee. I had a tree in my way and couldn't see the flag and hit my second shot in the left bunker. I had another tree in the way, so I punched out, chipped it to six foot, but missed the bogey putt on the low side.
"I learned a lot on the Sunshine Ladies Tour about letting go of bad shots, and even when the gap was reduced, I didn't let my thoughts wander. I just made sure that I kept in the moment and played for pars coming home.
"I'm really stoked, but there won't be much time for celebration, because the Match Play starts tomorrow. Now the pressure really starts, because anything can happen in this format. I would love to add my name to the winner's list, so I'll hit the reset button tomorrow morning."
Macnab battled a balky putter on day two and struggled with the flat-stick for most of the final round, but something clicked as the Serengeti golfer came down the home stretch. She fired three birdies on the bounce from 16 to close out a runner-up finish with a three-under 69.
Henriques signed for a 74 to finish in third on one-under.
Two-time Bridge Fund Manager Junior Series winner Kiera Floyd reeled in a trio of birdies from the ninth on her way to a final round 71 that earned the 15-year-old Ekurhuleni junior fourth on her own on one-over.
Gauteng's Kaiyuree Moodley closed with an even-par 72 to round out the top five on two-over.
Western Province Women's Golf Development Squad graduate Paulsen was over the moon after edging out Kamaya Moodliar from KwaZulu-Natal with rounds of 87, 85 and 87 to win the B-Division. "I had low expectations coming here because Woodhill is such a tough course, and I'm so happy with the result.
"The course was quite long and the greens are so tough to read, but I was really happy with the way I started this week. I wanted to test myself against the field, and I really managed myself well. Now I can leave for Texas to start at Ranger College with a big win under my belt.
"I couldn't have done this without the support of Western Province Women's Golf. Their financial, emotional and coaching support has been incredible since I joined the squad five years ago, so I am definitely sharing this trophy with our president Maureen Weimar and all the amazing people at Western Province Women's Golf."
A-Division Final Result
208 Kajal Mistry 70 67 71
213 Caitlyn Macnab 70 74 69
215 Symone Henriques 74 67 74
217 Kiera Floyd 73 73 71
218 Kaiyuree Moodley 74 72 72
219 Kaylah Williams 76 72 71; Megan Streicher 71 73 75
220 Zethu Myeki 76 73 71
225 Larissa du Preez 73 77 75
227 Jordan Rothman 79 71 77; Stephanie Barbaglia 76 73 78
228 Gabrelle Venter 77 73 78; Samantha Whateley 79 71 78
232 Marine Legentil 76 81 75; Zane Naude 76 79 77
234 Emily Jones ZIM 81 74 79; Liezl Smit 76 74 84
236 Kaylan Boshof 78 80 78; Kera Healey 78 78 80; Nadia van der Westhuizen 75 80 81
237 Kim de Klerk 83 79 75; Eleonora Galletti 78 81 78
238 Sandra Winter 81 77 80; Danielle Bekker 76 81 81
239 Nicola Schoeman 83 82 74; Kyra van Kan 83 80 76; Vicki Traut 81 79 79; Demi Flanagan 78 81 80; Nina Grey 74 79 86
240 Alisa Rich 84 77 79; Annalie Swanepoel 76 79 85
241 Bobbi Brown 79 80 82
242 Isabella van Rooyen 86 78 78; Heidi van der Berg 79 80 83
246 Bronwyn Leigh Doeg 80 85 81
247 Lizzie Currie 85 82 80
248 Ineke Brynard 83 88 77; Teagan Lubbe 85 82 81
250 Lauren Clough 81 86 83; Eva Magala UGA 84 79 87
252 Anika Smit 87 86 79; Shani Brynard 83 87 82; Lynne Behagg 81 87 84; Tebogo Lefifi 82 82 88
253 Senayah Moodliar 79 90 84
256 Holly Lau 82 86 88
257 Charlene Oosthuizen 87 89 81; Petrone Rudolph 85 84 88
258 Pheletso Mota 86 90 82
260 Odette Booysen 86 84 90
262 Elizabeth Lightley 95 84 83
263 Melani Grobler 92 86 85
266 Gloria Mbaguta UGA 89 94 83; Millie Dondashe 88 95 83
268 Jessica Meyer 87 94 87; Megan Kraft 85 86 97
269 Ellandri van Heerden 94 88 87
282 Rouchelle Eksteen 98 91 93
285 Gizelle van der Westhuizen 98 95 92
WD Lize-Mari Prinsloo 93 WD WD
B-Division Final Result
259 Kayla Paulsen 87 85 87
264 Kamaya Moodliar 88 91 85
268 Jutta Tecklenburg 90 89 89
280 Melinda van den Heever 89 104 87; Rene Matthee 93 94 93
285 Zoe Heyneke 98 96 91
289 Anesu Gavaza 92 96 101
293 Sinead Rice 96 100 97; Amanda Kieser 93 98 102
WD Bonolo Thato Tshite 132 106 WD
Written and released by Lali Stander on behalf of GolfRSA.
AUGUSTA, Georgia (7 April 2019) – South Africa's Kaleigh Telfer closed out a top 12 finish at Augusta National as the world's top-ranked amateur Jennifer Kupcho from the United States became the first champion of the Augusta National Women's Amateur on Saturday.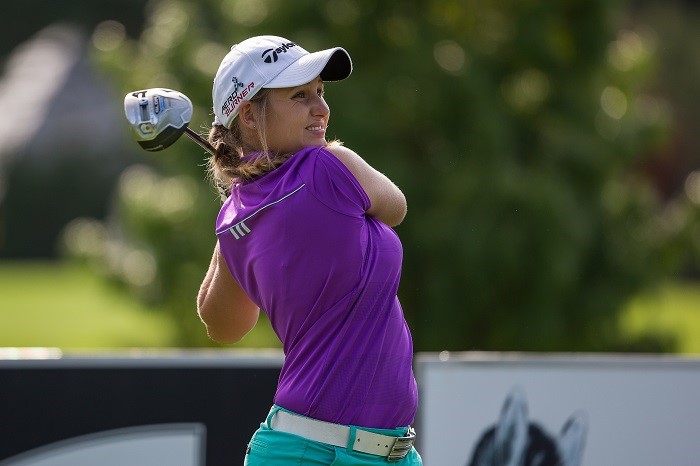 GolfRSA Elite Squad member Kaleigh Telfer; credit GolfRSA.
Telfer began the inaugural event strong and was third on her own after an opening three-under-par 69 at the Champions Retreat Golf Club and looked a shoe-in for the top 30 who would contest the final round on the hallowed turf of the Masters venue, but a second round 76 to slip to three-over landed the GolfRSA Elite Squad in a sudden-death play-off for the last 10 spots.
The Bryanston golfer made a spectacular up-and-down in extra time to seal her start at Augusta National.
After a bumpy front nine, Telfer found her stride and reeled in birdies at 13, 15 and 17 for a one-under-par 71 to tie for 12th on two-over 218.
Kupcho was trailing playing partner Maria Fassi from Mexico by two strokes after 12 holes, but she played her final six holes in five under par to prevail.
An eagle on the par-five 13th kick-started impressive second-nine stretch for the Wake Forest senior that also featured birdies on the par five 15th, par three 16th and the iconic par four closing hole, where she drained a 25-footer for victory.
Earlier in the round, 21-year-old Kupcho fought a migraine that resulted in blurry vision, but she battled back to record a five-under-par 67 – fittingly, the lowest round of the championship – to win by four strokes on 10-under-par 206.
"It's always a great feeling to win, but to win at Augusta National is an experience like none other," said the champion. "Just to get to walk the fairways and walk up 18 with as many fans as there were was amazing.
"I think, first of all, for me to hit the first tee shot of the tournament was a great honour. And then to be able to hit the last putt and to win, it's just amazing. It's an amazing feeling, to have my brother here, to have my parents here, everyone out there supporting me. It was quite a day."
Reigning Asian Games gold medallist Yuka Saso from the Philippines and Japan's Yuka Yasuda tied for third on two-under 214.
Zoe Campos (72), one of the youngest players in the field at age 16, and Kaitlyn Papp (74) were tied for fifth at one-under-par 215, while Sweden's Beatrice Wallin shared seventh on even-par with Haylee Harford and Haley Moore from the United States.
Americans Sierra Brooks and Alice Hewson rounded out the top 10 on one-over 217.
Written and released by Lali Stander on behalf of GolfRSA.
MANZINI, Eswatini (4 April 2019) – Zethu Myeki, Sarah Bouch and Larissa du Preez dovetailed brilliantly over 54 holes to capture South Africa's seventh successive Regional All-Africa Challenge Trophy victory with a wire-to-wire performance in Eswatini.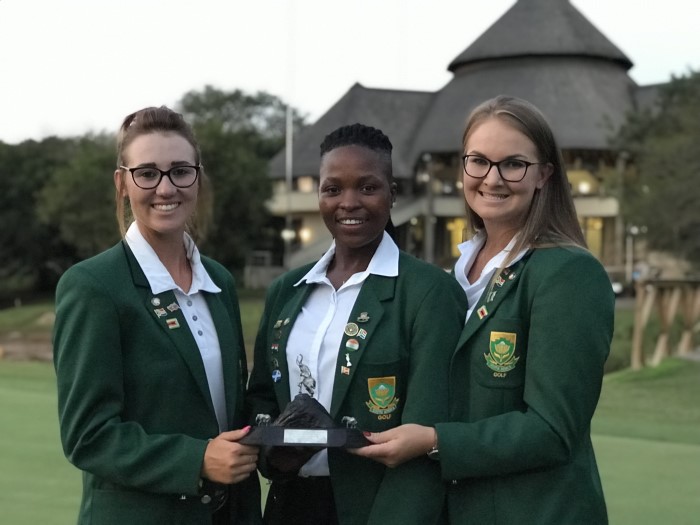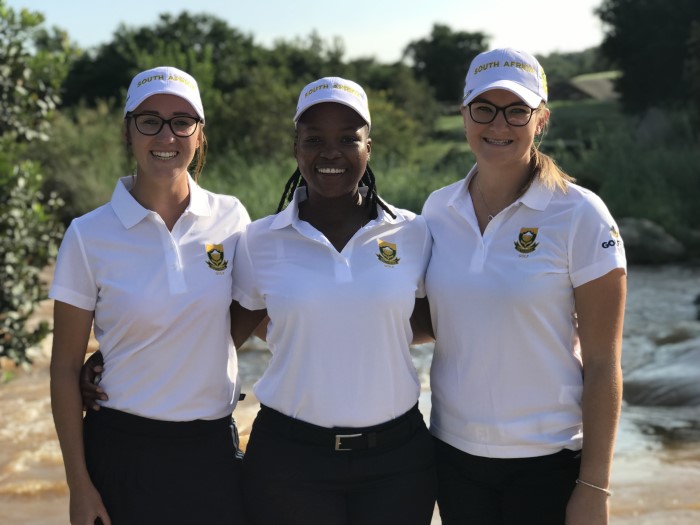 South Africa trio Larissa du Preez (Gauteng North), Zethu Myeki (Gauteng) and Sarah Bouch (Ekurhuleni) went wire-to-wire at the Nkonyeni Lodge and Golf Estate in Eswatini to lift the Regional All-Africa Challenge Trophy for a seventh successive time; credit GolfRSA.
Womens Golf South Africa Vice-President Sarah Braude (left) celebrates South Africa's seventh successive victory in the Regional All-Africa Challenge Trophy with Team South Africa's Larissa du Preez (Gauteng North), Zethu Myeki (Gauteng) and Sarah Bouch (Ekurhuleni) at the Nkonyeni Lodge and Golf Estate in Eswatini; credit GolfRSA.
GolfRSA Elite Squad members Myeki and Bouch combined for an eight-over 150 in Thursday's final round at the Nkonyeni Lodge and Golf Estate to seal a successful title defence in the prestigious team event with a winning total of 434.
Meanwhile Petrone Rudolph, Theresa Fawcett, Nokuthula Dlamini and Connie Mundell gave the local crowd plenty to cheer about.
The Eswatini team posted rounds of 163, 167 and 166 for a tournament total of 496 to finish in second, beating Zimbabwe by eight shots.
On a tough scoring day, Myeki was three over after the first five holes and made a bogey start to the back nine, but she rallied with a birdie par three 11th and picked up another shot at par five 14th. Two more bogeys at 15 and 17 saw her clock in with a four-over-par 75.
"I wasn't great off the tee today, and dropped shots at one, three and five," said the Randpark golfer.
"I steadied the ship with pars at six and seven and made a great par on the eighth. I hit my tee shot down the middle and took 8-iron for my approach from 144 metres. I came up short of the green, but chipped it to two metres and holed the putt.
"At the short hole (11), I hit pitching-wedge from 128 to three metres and made the putt. I pushed my tee shot right at 12, but made a great par save after punching out. The birdie at 14 was awesome. I had 213 metres to the flag and hit 5-wood in. The ball perched on the edge of the green and I two-putted for birdie from about 17 metres out.
"It was not an easy day, but I kept grinding and I'm happy with the score I achieved. I am so proud to share this moment with Sarah for a second time and with Larissa. We are over the moon."
Bouch, who celebrated South Africa's sixth victory with Myeki in Lesotho two years ago, was just as thrilled to help South Africa to victory.
The Benoni Country Club golfer had a lone bogey at the par three seventh, but started the back nine with a double at 10 and bogey at 11. She stemmed the bleeding with birdies at 13 and 14, but gave back the gains with a double at the par three 17th for a round of 75.
"I drove the ball really nicely, putted extremely well, but it was a very hot and windy day, which made club selection quite difficult," Bouch said. "I made a few good up-and-down par saves, but the wrong club selection at the seventh cost me a shot.
"At 13, I drove it next to the green and made the up-and-down for birdie. The next hole was playing straight down wind and downhill. I finished just short of the green, but once again, hit a great chip and made the birdie putt. Unfortunately the doubles cost me but overall, I'm really happy with my game… onwards and upwards from here."
New cap Du Preez helped to boost South Africa into a favourable position with earlier rounds of 71 and 73. The Silver Lakes golfer returned a non-counting 79 in the final round.
"I didn't hit many fairways and that made the approach shots all the more difficult," said the Ernie Els and Fancourt Foundation member. "I four-putted for bogey at five and I was quite upset with my silly mistake. From there on I struggled for pars, but I made a good birdie on seven and 10.
"I battled on the greens coming home and that costs me a few shots, especially the doubles at 16 and 17. I am grateful to GolfRSA and Womens Golf South Africa (WGSA) for the opportunity to represent South Africa with Sarah and Zethu. This has been a fantastic experience."
WGSA Vice President Sarah Braude lauded Eswatini Ladies Golf Union and Nkonyeni Lodge and Golf Estate for hosting an exceptional event.
"The tournament hosts Eswatini, headed up by President Theresa Fawcett, who also competed, has been amazing and their dedicated team of volunteers have presented a superb Regional All-Africa Challenge Trophy.
"We also applaud general manager Frans Strauss and his team for presenting us a course in true championship status.
"I am very proud of Team South Africa on defending the title. Zethu, Sarah and Larissa performed with pride, both on and off the golf course, and this victory means so much to them. We are also very proud of Zethu, who won the Individual Competition and set a new course record with her three-under-par 68 in round two. We leave having rekindled friendships and having made many new friends in women's amateur golf in Sub-Saharan Africa."
Team Competition Final Result
434 South Africa 143 141 150
496 Eswatini 163 167 166
504 Zimbabwe 169 169 166
523 Namibia 179 173 171
570 Botswana 193 189 188
657 Lesotho 221 223 213
710 Angola 248 233 229
Individual Scores Round 2 (top 10)
218 Zethu Myeki RSA 75 68 75
223 Sarah Bouch RSA 72 76 75; Larissa du Preez RSA 71 73 79
240 Petrone Rudolph SWZ 78 81 81
250 Margret Nyamukondiwa ZIM 83 84 83
254 Wilna Bredenhann NAM 86 84 84
256 Theresa Fawcett SWZ 85 86 85
257 Yolander Mubayiwa ZIM 86 88 83
261 Aulua Alfazema ZIM 88 86 87181
269 Adri Pienaar NAM 93 89 87
Written and released by Lali Stander on behalf of GolfRSA.
GEORGIA, United States (2 March 2019) – South Africa's Kaleigh Telfer will share in a historic week for women's amateur golf when she joins the most promising future stars of the game in the inaugural Augusta National Women's Amateur today.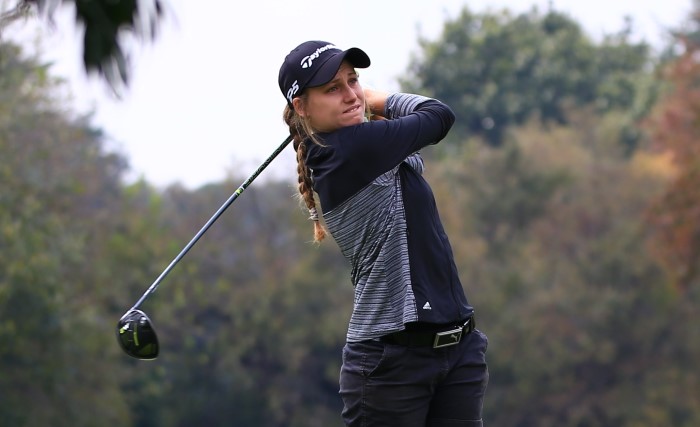 GolfRSA Elite Squad member Kaleigh Telfer; credit GolfRSA.
The annual championship – established by Augusta National Golf Club – features a world-class field of 72 players, who were invited based on their positions in the Women's World Amateur Golf Ranking (WAGR) or performances at various recognized tournaments.
The GolfRSA Elite Squad player will join the field for the first two rounds of the 54-hole championship at the Champions Retreat Golf Club at Augusta on 3 and 4 March.
Only the top 30 will advance to the final round at the legendary host venue of the Masters, but all the participants will be able to experience the hallowed turf of Augusta National Golf Club during a practice round on Friday.
Former SA number one Telfer is a second year student (sophomore) at Auburn University.
The Ernie Els and Fancourt Foundation member capped off the fall portion of the season with her first career collegiate victory at the Battle at the Beach in San Jose del Cabo, Mexico.
Her five-under total helped the Auburn Tigers cruise to a 17-stroke victory, the program's first team win since 2014, and that was preceded by an individual third-place showing at the Alexa Stirling Intercollegiate.
During the South African winter last year, Telfer was a finalist in the prestigious South African Women's Amateur Match Play Championship. She has also represented South Africa in the 2016 and 2018 World Amateur Team Championships, two Toyota Junior Golf World Cups and the 2014 Youth Olympic Games in Nanjing, China.
Telfer will start the first round alongside Sophie Hausmann from Germany, a three-time first-team All-Big Sky honouree, and Canadian Brigitte Thibault, whose best finish this season was second in the Las Vegas Collegiate Showdown.
Womens Golf South Africa President Sally Greasley, who is representing South Africa at the inaugural Augusta National Women's Amateur, said:
"This is a momentous occasion for women's amateur golf," Greasley said.
"It is almost unimaginable that Augusta National will crown a historic first woman as a tournament champion right before the start of the 83rd Masters. I believe this event will boost women's amateur golf, especially among the juniors, in tremendous fashion and it is a huge honour for GolfRSA and Womens Golf South Africa to have one of our own compete in the first Augusta National Women's Amateur.
"Kaleigh was South Africa's first female golf Olympian and it's almost poetic that she will also have the honour as the first South African woman to compete in this prestigious event. We are all incredibly proud of her achievement and wish her great golf this week."
World number one and the reigning individual NCAA Division I champion Jennifer Kupcho leads the quality field. Other top names to watch are American compatriot and world number three Andrea Lee, the reigning British Women's Amateur champion Leonie Harm from Germany and Thailand's Atthaya Thitikul, who won the inaugural Women's Asia-Pacific Amateurs last year.
World number six Jiwon Jeong of Korea, runner-up at the 2018 US Women's Amateur, is the highest ranked international player in the field.
Alexa Pano, aged 14 is the youngest player in the championship.
A total of 25 countries will be represented at the championship, with the United States leading the way with 31 participants. Sweden will field six players, Italy four and England and Thailand three each.
Slovenia's Ana Belac, Sofia Anokhina from Russia and Malaysia's Hee Ying Loy are the first golfers in history from their respective countries to have received invitations from Augusta National Golf Club.
The champion will receive a stunning sterling silver and gold vermeil Tiffany & Co-designed trophy that features a base carved from a magnolia tree and the flower namesake of each hole surrounding.
In addition to invitations to the next five championships, providing she keeps her amateur status, the winner will also be exempt to compete in the 2019 US Women's Open and Women's British Open, as well as any USGA, R&A and PGA of America Amateur Championships for which she is eligible for one year.
Four legends of the women's game and icons of many of the participants – Hall of Famers Annika Sorenstam, Nancy Lopez, Se Ri Pak and Lorena Ochoa – will be on site to inspire the rising stars during the championship, the first tee ceremony and other functions.
Sweden's Sorenstam, one of the most successful players in the history of LPGA with 10 major titles, was confident the reward of playing at Augusta National Golf Club will become a strong source of motivation for the young golfers.
"This championship is fantastic for women's golf, and I know young girls are going to be energized and motivated by seeing this event unfold for years to come," said Sorenstam.
Written and released by Lali Stander on behalf of GolfRSA.
MANZINI, Eswatini (1 March 2019) – GolfRSA Elite Squad player Zethu Myeki, fellow Ernie Els and Fancourt Foundation member Larissa du Preez and Sarah Bouch will start South Africa's title defence in the Regional All-Africa Challenge Trophy (RAACT) in Eswatini on Tuesday.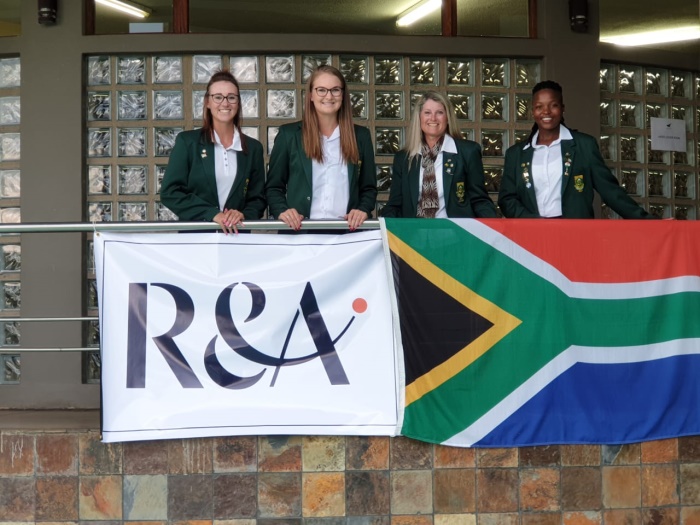 Larissa du Preez (Gauteng North), Sarah Bouch (Ekurhuleni), Womens Golf South Africa Vice-President Sarah Braude and Zethu Myeki (Gauteng) will chase South Africa's seventh successive title in the Regional All-Africa Challenge Trophy (RAACT) in Eswatini; credit GolfRSA.
The prestigious Regional All-Africa Challenge Trophy events are held biennially in West Africa, Southern Africa, North Africa and East/Central Africa and are financially supported by the Royal and Ancient of St Andrews (R&A).
The Southern Africa edition tees off at the Nkonyeni Lodge and Golf Estate from 2-4 April.
In addition to the host nation and the defending champions, the rest of the competing nations include Botswana, Lesotho, Namibia, Zimbabwe and a seventh team, comprising two players from Eswatini and a player from Angola.
The format is 54-hole stroke play, with two scores to count towards the team score.
South Africa has won every edition since the inaugural tournament in Botswana in 2007 and two years ago, Myeki and Bouch were instrumental in keeping the country's winning record alive in Lesotho.
The pair is excited to extend South Africa's success in the prestigious event with new cap Du Preez.
Myeki, coming off the leading amateur honours in the Joburg Ladies Open at Soweto Country Club last Thursday, believes a strategic game will get the South African team to the winner's circle.
"The course is looking great," said the Randpark golfer.
"Tee shots are relatively easy, but second shots becomes a bit tricky if you on the wrong side of the fairway, due to the slope. The greens are slow, so one needs to be positive on the putts. I think we can go low if the putters heat up."
Serengeti's Bouch agreed with Myeki's assessment.
"The tee shots are all about positioning," said Bouch. "You can't just bomb driver off every tee here. There are sneaky slopes that lead to penalty areas, as well as many trees that are positioned on the fairway. You either take the risk to drive it past them, or lay up with a hybrid or 3-wood off the tee.
"The fairways have a lot of slope, so they are tricky and the grass is very fluffy. The ground underneath is very sandy, too, so it's easier to hit underneath the ball. It's better to position yourself on uphill or flat lies.
"The greens are in good condition. They are grainy, though, so you have to be firm with your putts, because if you hit it too soft, the ball ducks before the hole."
Du Preez was equally excited to make her debut for South Africa after the official practice round.
"I'm so proud to be a member of this team and I'm extremely excited to get this tournament going," said the Akasia golfer. "It's been great to meet our opposition from all the different countries and to meet our wonderful hosts here at d to be part of this team.
"The course is in great condition and we love the set up with all of the wild life around us. We can definitely score well if we position ourselves in the right spots on the fairways and if we get the speed right on the greens. I also realised in the practice round that you need to take an extra club when you hit your approach shot. I'm really looking forward to the first round and doing my best for the team."
Written and released by Lali Stander on behalf of GolfRSA.