PINEHURST, North Carolina (4 July 2019) – GolfRSA and Bridge Fund Managers celebrated a big win on Wednesday as Western Province junior Tyran Snyders became the first South African champion in the 41st North and South Junior Championship in the United States.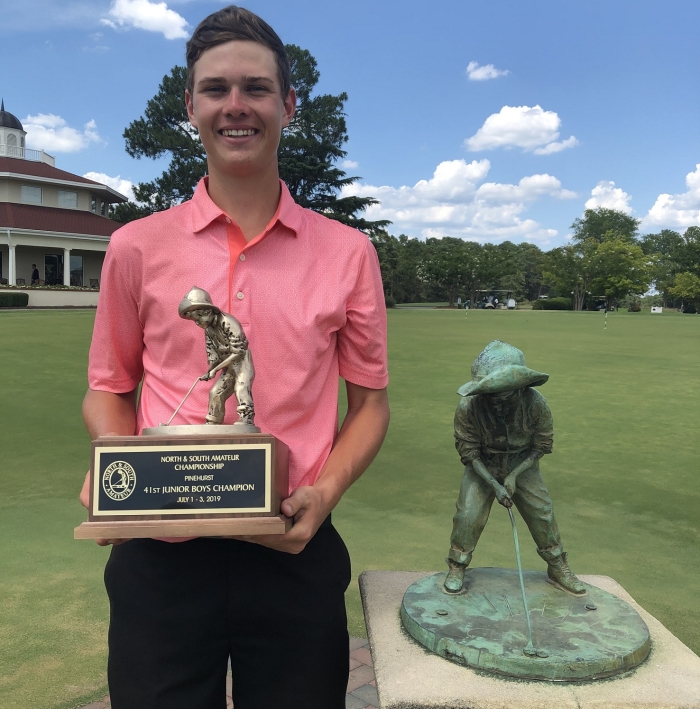 Bridge Fund Managers Junior Series finalist Tyran Snyders from Western Province became the first South African to lift the prestigious North and Junior South Championship title in 41 years at Pinehurst Resort; credit GolfRSA.
The 18-year-old Paarl teenager fired a flawless four-under-par 68 on Pinehurst No 8 in the final round to triumph by three shots on nine-under 205.
The historic victory continues the international winning streak for South Africa's juniors after Martin Vorster won in the East of Ireland Amateur and the GolfRSA Junior Proteas lifted the Toyota Junior Golf World Cup in Japan in June.
Snyders and fellow South African Ryan van Velzen earned their highly desired berths for the North and South Junior after coming up trumps in the North and South Finals of the popular season-long Bridge Fund Managers Junior Series.
Snyders shot straight to the top of the leaderboard with a 67 in the opening round, which was also played at Pinehurst No 8.
The second round was played at Pinehurst's iconic No 2 course, which hosted the Ryder Cup in and the US Open in 1999, 2005 and 2014, and Snyders put together a patient and steady even par 70 to open up a two shot lead on the field.
During the final round, six players dipped under par, but the Durbanville Golf Club junior did not drop a single shot and kept his closest challenger, Jolo Magcalayo from the Philippines, at arms-length with a brace of birdies at seven and eight and further gains at 13 and 17.
Not only will his name be emblazoned in bronze on the Perpetual Wall in the Heritage Hall of Pinehurst's main clubhouse, but the victory earned Snyders a return trip to Pinehurst Resort for the 2020 Men's North & South Amateur.
The Durbanville golfer was pleased as punch with his international breakthrough.
"I haven't won a national tournament at home, so to come to America for the first time, to contend and to keep it together and win is pretty special," he said.
"Standing on the first tee at Pinehurst No 2 was pretty intimidating, but at the same time, I was quite excited to play, especially being in the lead. I played with Jolo and I could see he was a really good and steady player. I knew I would have to play really good golf to win. He only made one bogey all day, and I knew I had to do pretty much the same. And I did – no bogeys.
"This has been an amazing trip and I am so grateful. I can't thank Bridge Fund Managers enough for giving our juniors a chance to compete for this experience. It was incredible to tee it up in a tournament where you rub shoulders with the cream of US junior amateur golf. This is undoubtedly the highlight of my career and I couldn't be happier."
Van Velzen, meanwhile, finished an impressive seventh.
The Benoni golfer opened with a 74, claimed the low round honours at Pinehurst No 2 in the second round with a two-under 68 and closed with a 73 for a final score of one-over 215.
Written and released by Lali Stander on behalf of GolfRSA.
ST ANDREWS, Scotland (9 June 2019) – Southern Cape junior Martin Vorster tied for seventh in the St Andrews Links Trophy, while GolfRSA National Squad team-mate Luca Filippi from Western Province grabbed a share of 23rd at the Old Course in Scotland in Sunday.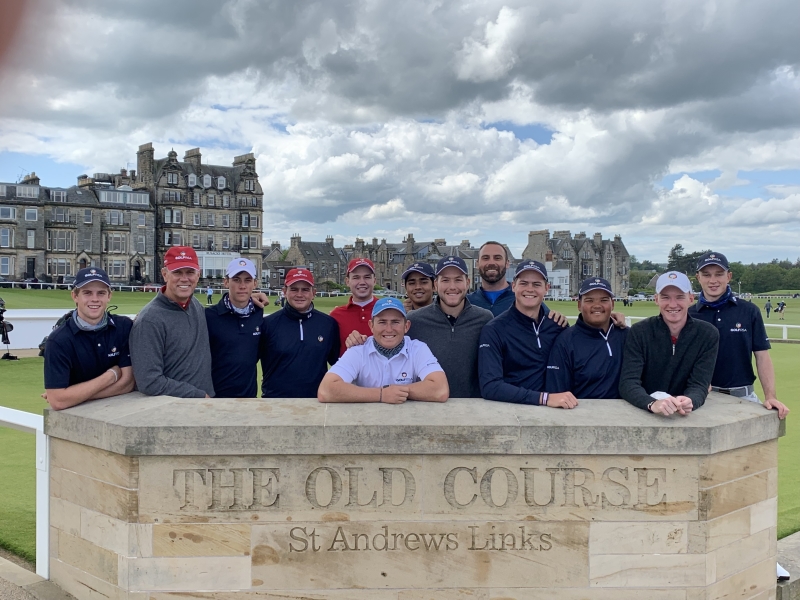 The GolfRSA National Squad at the St Andrews Links Trophy; credit GolfRSA.
Left to right:
Martin Vorster (Southern Cape), team coach Roger Wessels, Sam Simpson (Western Province), Casey Jarvis (Ekurhuleni), Luca Filippi (Western Province), Christiaan Burke (Free State), Yurav Premlall (Ekurhuleni), Therion Nel (Free State), team fitness coach Gavin Groves, Wilco Nienaber (Free State), Jordan Duminy (Southern Cape), Matt Saulez (KwaZulu-Natal) and Jayden Schaper (Ekurhuleni).
Vorster has been in imperious form this season, adding to victories in the Sanlam Cape Province Open and Western Province Amateur Match Play in his native South Africa with a senior international breakthrough in the East of Ireland Amateur Open a fortnight ago.
The purple patch elevated Vorster to 194th in the world amateur golf rankings and his performance at the Home of Golf will further boost the Louis Oosthuizen Junior Golf Academy member when the rankings are updated later this week.
Vorster went wire-to-wire at the St Andrews Links Eden Course last year to become the first South African champion of the prestigious Junior Open Championship, but he was just as proud of his performance in the St Andrews Links Trophy.
"Every amateur I know of dreams of playing the Old Course at St Andrews, and I am incredibly grateful to GolfRSA for making my dream come true. I had goose bumps every time I stood on the first tee or walked over the Swilken Brigdge."
The Mossel Bay golfer opened his campaign with a four-under-par 68 at the Jubilee Course and stayed inside the top 10 with a three-under 69 in his first trip around the Old Course. A second 69 at the Old Course on Sunday morning kept him inside the top 10.
"I bogeyed the par five fifth in the final round, but countered with a birdie at the short 11th and birdied the closing hole for a final round 71 to finish on 11-under 277," said the Pinnacle Point golfer.
"The pin was just above the Valley of Sin. My drive pitched just left of the pin and rolled on a bit and then slowly trickled back down into the valley. I hit a great first putt to a foot and tapped in for birdie and it was quite special to have all the spectators watching me putt out.
"My best shot of the tournament was probably at the 11th hole in round two. The pin was tucked right into the left corner and I had 150 metres flag. I hit a chip 6-iron with a small draw to three metres right of the flag and boxed the birdie putt.
"The last two weeks has been a major step up for me from the junior circuit. I think the biggest takeaway from the GolfRSA National Squad Tour was learning to handle pressure on the big stage and to play golf at the highest amateur level. You could judge the quality of the field this week at St Andrews with the cut that fell at four-under. It was without a doubt the most competitive golf tournament I've ever played in.
"The other thing I really enjoyed was travelling with the other squad members and the camaraderie we developed.
"The support among the team-mates is awesome. It was so great to have the guys supporting me in Ireland and again on Sunday, coming out to walk with myself and Luca. Matt (Saulez) caddied for Luca on Sunday, but I wanted to push my own trolley. Wilco (Nienaber) took my bag for the last nine holes and that was pretty special."
Voster, Casey Jarvis and Sam Simpson leave the GolfRSA National Squad Tour to meet up with last year's East of Ireland champion Christo Lamprecht in Japan.
"Sam, Casey and I have taken a lot on board on the tour and we're looking forward to the Junior Golf World Cup next week," he said. "I believe we have a great team culture and the depth and talent to do really well this year."
South Africa's number two ranked Filippi has also enjoyed a profitable run this season.
He won the South African Amateur qualifier and Northern Cape Open, reeled in five top 10s and has not missed a cut in over 10 starts.
The Western Province golfer tied for 23rd on seven-under 281 after rounds of 70, 69, 70 and 72.
"I was really pleased to improve almost 20 places on my tie for 40th last year," said Filippi, who tied for 33rd in the English Men's Open Amateur Championship two weeks ago.
"Unfortunately I let myself down with a couple of three-putts coming down the home stretch in the windy conditions, but making the cut in two very competitive events has boosted my self-belief."
Filippi travels to Ireland next for the 124th playing of the Amateur Championship at the Portmarnock and Island Courses from 17-22 June alongside fellow Ernie Els and Fancourt Foundation member Therion Nel, number one ranked Jayden Schaper, Matt Saulez, Christiaan Burke, junior pair Jordan Duminy and Yurav Premlall and Wilco Nienaber, who last year became the first South African to win the qualifying round since its inception in 1983.
"Irrespective of results, it's been a great tour so far for everyone on the squad in terms of gaining experience and we are all excited to start the next challenge," Filippi said.
FINAL RESULT: https://salt.intelligentgolf.co.uk/competition.php?compid=3446&preview=1
Written and released by Lali Stander on behalf of GolfRSA.