CAPE TOWN, 10 March 2019 – Kaiyuree Moodley from Gauteng and Ekurhuleni pair Caitlyn Macnab and new cap Kiera Floyd will target a third successive victory for South Africa in the prestigious All-Africa Junior Golf Challenge in next week.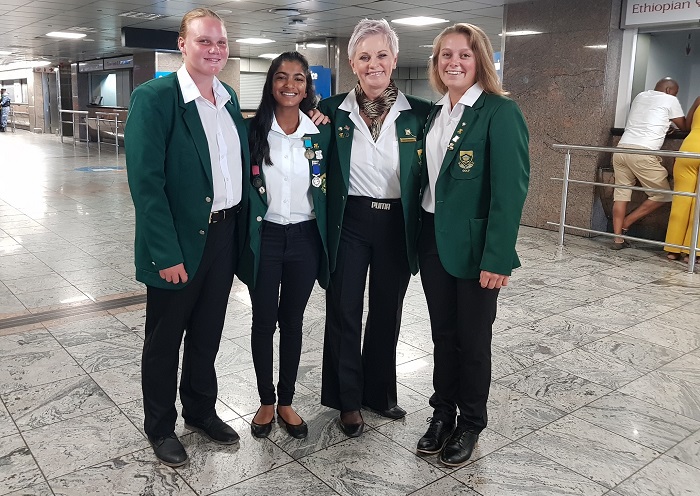 PHOTO – Top ranked trio Caitlyn Macnab and Kiera Floyd from Ekurhuleni and Gauteng junior Kaiyuree Moodley with WGSA President Sally Greasley on their way to Botswana for the All-Africa Junior Golf Challenge at Phakalane Golf Club from 12-15 March; credit GolfRSA
The top ranked GolfRSA Elite Squad trio travelled to Botswana on Sunday and will challenge the other African nations in the Girls Competition in a bid to secure a spot in the Toyota Junior Golf World Cup supported by JAL in Japan later this year.
GolfRSA National Squad members Martin Vorster, Christo Lamprecht and Casey Jarvis, as well as Sam Simpson also made the trip to Botswana, where the quartet will strive to chase down South Africa's 21st consecutive victory in the event at Phakalane Golf Club from 12-15 March.
"The All-Africa Junior Golf Challenge long served as the Africa Qualifier for Japan for the boys, but the Girls Competition was only introduced two years ago," explained Womens Golf South Africa President Sally Greasley.
"The chance to compete against the cream of junior golf in Japan is a wonderful opportunity and our previous teams have benefitted hugely from the experience in the past two years.
"Our junior girls have done us proud over the last two years with back-to-back victories. In 2017, Kajal Mistry, Symone Henriques and Kaleigh Telfer represented us for the first time at Royal Harare Golf Club in Zimbabwe.
"Last year, Kajal and Symone returned for duty alongside Caitlyn, who made her national debut at the Royal Dar Es Salam Golf Course in Rabat, Morocco. The teams won comprehensively on both occasions and we are confident that we have selected another strong team this year.
"Kaiyuree gained fantastic experience abroad during her Youth Olympics debut in Argentina, while Caitlyn performed exceptionally well in the Girls' British Open Amateur Championship and the Espirito Santo Trophy at the World Amateur Team Championship in Ireland last year.
"Both players did well at the Annika Invitational USA early this year, with Kaiyuree losing in a play-off and Caitlyn rallying after a disappointing start with a final round 70 to share the low round honours on the final day.
"Caitlyn has risen to the number one spot in the Open and Junior Rankings this season, with Kaiyuree second in the Junior Rankings and fourth in the Senior standings and they are certainly deserving of their spots on the team."
Fourteen-year old Floyd, who finished fourth in the Girls B-Division Himbara World Junior Golf Championships, presented by Ciputra, in Indonesia last year, will wear the green and gold for the first time in Botswana.
"Kiera is one of our most exciting young prospects, and we are excited to see how she handles herself in Botswana," Greasley said. "Since her international debut in Jakarta, Kiera has gone from strength to strength and enjoyed a rapid rise in the rankings.
"She broke into the top five in the Junior Rankings with her Gauteng North Junior Girls Championship win earlier this month and she moved to sixth in the Open Amateur standings following victory in the Mpumalanga Championship late last year and a top five finish in the Eastern Province / Border Stroke Play in January. In addition to their positions in the rankings, Caitlyn also tops our Performance Rankings and Kiera is lying second.
"We are extremely excited at the depth and experience of our three selected players. They have all earned their spots with consistently strong performances and excellent results in the past 12 months and we are confident in their ability to compete at the highest level in Botswana."
Written and released by Lali Stander on behalf of GolfRSA.
BENONI, 8 March 2019 - Caitlyn "Cat" Macnab thrives on challenge. That is evidenced in every swing this petite rising star makes in pursuit of the perfect strike. And in the way she casts her rod in the sea and plays a cob until she guides it safely to shore.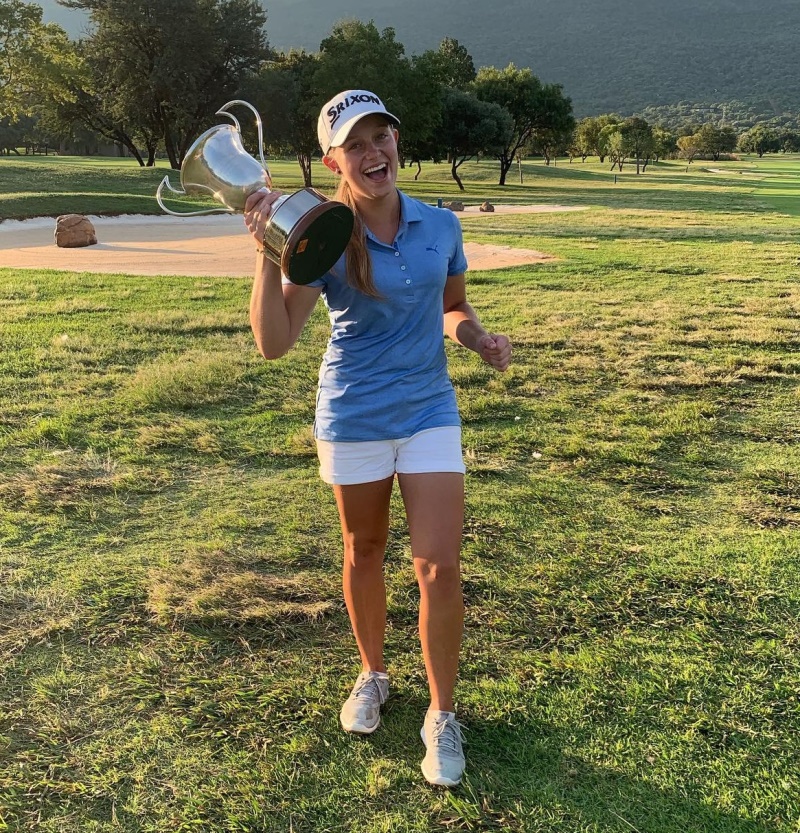 PHOTO – GolfRSA Elite Squad member Caitlyn Macnab from Ekurhuleni rose to number one in the Open Amateur and Junior Rankings inside the first two months of the 2019 season; credit GolfRSA.
"I guess if it wasn't golf, I'd become a professional angler," says the Benoni junior.
"I tried ballet once, didn't like it because I couldn't point my toes. I like shopping, hanging out with friends, going to movies. My family do a lot of water sports and I like wake-boarding and slalom ski. I've got a passion for cars, shoes, music and watches. And I love fishing.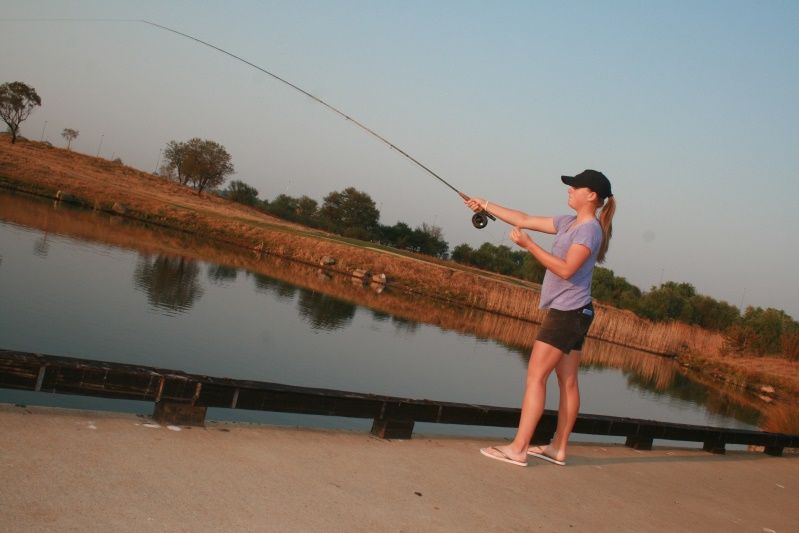 "It's relaxing, quiet, and peaceful. It's completely different to what I do on the golf course. It just eases my mind. Golf and fishing are similar, because they are solitary sports that require a lot of patience. Both demand perfection. The difference is that I intend to make a living with golf and I fish for fun. It's a great balance for me."
On Sunday, the 17-year-old shot to the top the Womens Golf South Africa Open Amateur rankings with a three-shot victory in the North West Open – just a few weeks after she rose to number one in the Junior Rankings.
"That's two big boxes ticked on my bucket list for 2019," said Macnab. "I worked really hard for this and to hold the number one spot on both rankings is incredibly satisfying. But there are a lot more I still want to achieve this year."
Macnab announced herself in 2017 with eight top three finishes last year before she broke the winner's tape in the Ekurhuleni Women's Open.
Two months later Macnab, who packs a huge drive and a lethal short game, beat club champions from all over South Africa to lift the GolfRSA Champion of Champions title at Glendower – a feat she would repeat last year.
The GolfRSA Elite Squad member carried her winning form in to the 2018 season.
She helped South Africa claim its second victory in the All-Africa Junior Challenge in her national debut and made her first appearance in the Toyota Junior Golf World Cup in Japan.
She was the low scorer for South Africa in the Espirito Santo Trophy at the World Amateur Team Championship in Ireland, boosting the team to a joint 15th place finish, and tying 12th overall in the Individual Standings.
Pretty impressive, considering 162 golfers from 54 nations teed it up at Carton House.
She placed third in a world-class field in the qualifying round of the prestigious Girls British Amateur Open Championship in September.
Back home, she guided Ekurhuleni to their first-ever victory in the SA Women's Inter-Provincial and finished the season in the top three on both rankings.
Her 2019 season started with a bang. First in the season-opening Eastern Province / Border Stroke Play, followed by the winning performance at Magalies Park last weekend.
Macnab might fantasize about landing the big one like all fishermen, but her goals in golf are clearly defined. "I'm going to have a career in golf and my goals are set in stone," she says.
"My goals for the next two years are to cement the number one spot in the rankings and represent South Africa abroad. Then I want to play collegiate golf, turn professional and play the LPGA Tour. I want to win at least one Major and I want represent South Africa at the Olympic Games.
"I also want to go shark cage diving, bungee jumping and sky diving. And I recently read that a European golf instructor Steve Waltman invented a golf club that also doubles as a fishing rod. That's going on my bucket list, too.
"With a lot of hard work and dedication you can be good at anything you set your mind to. But you also have to be good at laughing and having fun. It's all about the balance."
PRETORIA, 13 February 2019 – Extraordinary talent is not the only thing that sets champions apart from the rest of the competition. It is the ability to follow a plan with discipline and sticking to it with tenacious commitment and perseverance.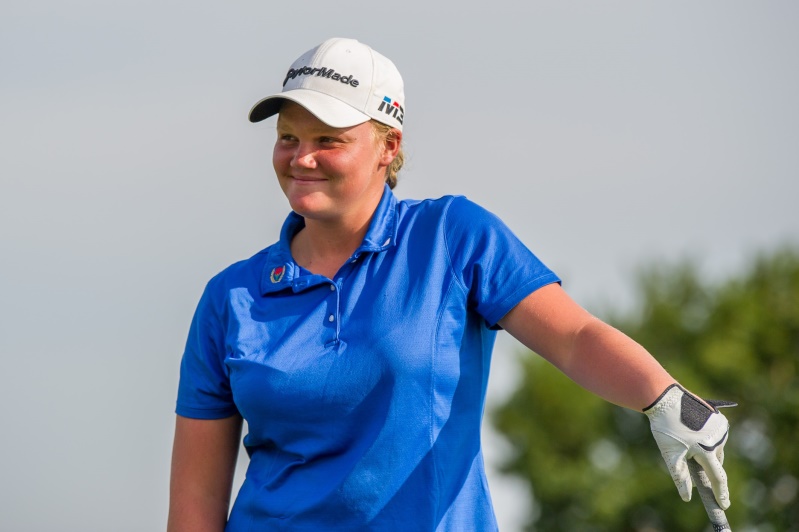 GolfRSA Elite Squad member Kiera Floyd; credit Tyrone Winfield.
These are the attributes that set 14-year-old Kiera Floyd from Benoni on a winning path seven months ago and the trophies on the GolfRSA amateur circuit continue to stack up.
Floyd announced herself last year when she beat the boys with a seven-under-par 65 at the tough East Course to become the first girl to win on the Bridge Fund Managers Junior Series at Royal Kensington and Johannesburg Golf Club.
Following fifth place finishes in the Sanlam SA Women's Stroke Play and the WGSA Women's 72-Hole Championship, the Ebotse teenager broke through on the Open Amateur circuit in the Gauteng North Women's Open.
A second victory in the Mpumalanga Open rocketed Floyd to sixth in the rankings.
She signed off in 2018 with a two-shot victory in the KwaZulu-Natal Junior Championship and – last Sunday – she rose to fourth in the Junior Rankings with a one-shot victory in the Gauteng North Junior Girls Championship.
Floyd carded rounds of 71 and 70 to fend off challenges from South Africa's number two ranked Caitlyn Macnab and Youth Olympian Kaiyuree Moodley, among others.
The success at Woodhill Country Club was a direct result of the GolfRSA Elite Squad Camp at Bryanston Country Club just before the tournament.
"I drive the ball on average 280 yards, but it doesn't always go where I am aiming. At the camp we had a session on Trackman and the coaches accessed our swings. Anna Becker-Frankel, our assistant national coach, identified a problem on my downswing.
"She told me to hit the driver like I would hit a forehand top-spin shot in tennis. I tried it and the ball started going exactly where I was aiming. It felt so amazing to have that kind of control. I was able to stick with the drill during the tournament and I missed very few fairways."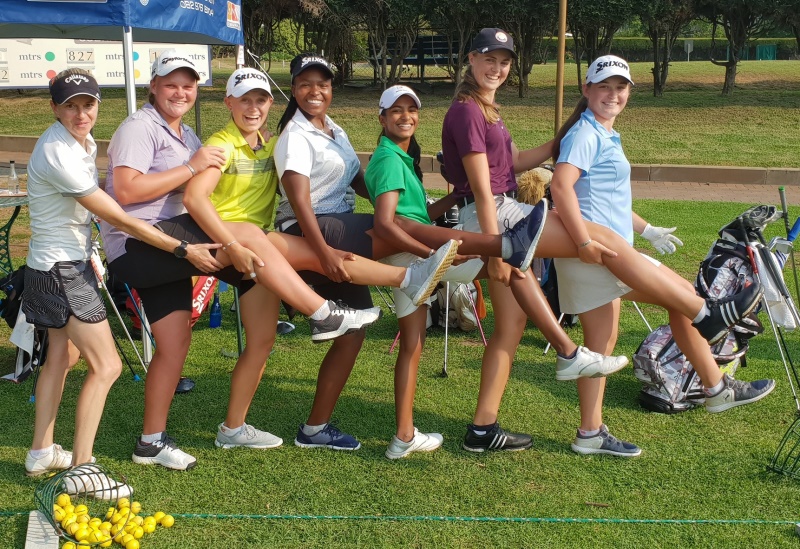 Learning, improving, building camaraderie and having some fun during the GolfRSA Elite Squad Camp at Bryanston Country Club. From left to right: Coach Costanza Trussoni, Kiera Floyd and Caitlyn Macnab from Ekurhuleni, Zethu Myeki and Kaiyuree Moodley from Gauteng and Western Province pair Kaylah Williams and Jordan Rothman; credit GolfRSA.
The GolfRSA Elite Squad and B-Squad members attended a series of sessions over the three days of the camp that included diet and nutrition with Marlene Durandt, physical fitness with Sandra Winter and mental strengthening – individual interviews and group work in the classroom and on the range – with renowned sport psychologist Maretha Claassen.
"The rest of the time we had sessions with our national coach Val Holland, Anna and with Costanza Trussoni, who put us through our paces on Trackman. We did drills with a big focus on chipping and putting, and range work that included video assessments and work with wedges and shorter irons.
"I definitely learned a lot and I especially used what Maretha taught us about finishing every shot with a positive thought at the Gauteng North Girls. No matter how well or bad it's going, you must always find something positive to take to your next shot.
"After I dropped a shot at 15 in the first round, I focussed on the good approach shot into the green, rather than the missed putt. I stayed positive and I hit the 17th green in two and holed a six metre putt for eagle.
"I had nine pars to start in the second round before my first birdie at 10, but I dropped at 11. Again, I focussed on how well I was driving the ball. I made two more birdies at 14 and 15 to take the lead. I kept the momentum going with solid pars for the win."
Floyd is fast becoming a force on the South African amateur stage and early success this year has inspired her to chase big goals this season.
"It doesn't matter if it's a junior event at home or a national championship. I love golf and I want to succeed. Everything we did at the camp was designed to take us to the next level. So I will do the work. I will be disciplined. I want to keep on winning."
PORT ELIZABETH, 6 February 2019 – Two of South Africa's most exciting young golfing prospects made an early statement in this year's battle for supremacy on the women's amateur circuit in the 2019 season's curtain-raiser at Humewood Golf Club.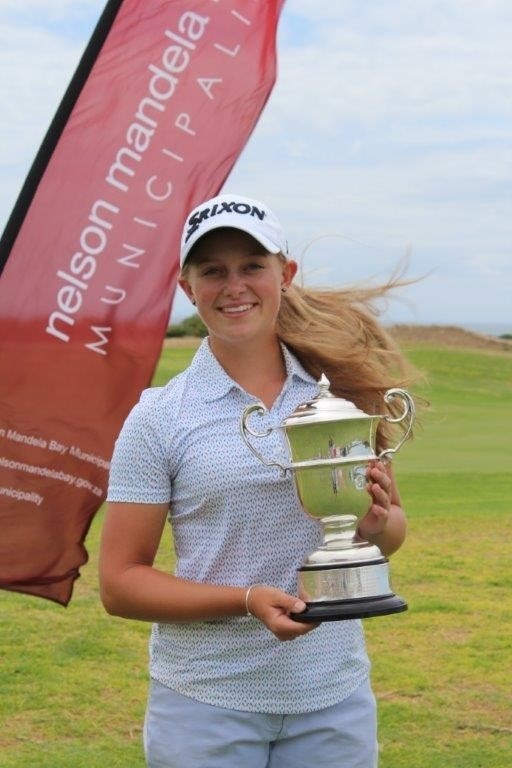 PHOTO - Caitlyn Macnab from Ekurhuleni won the season-opening Eastern Province/Border Championship at Humewood Golf Club; credit Roelf Basson - Director: Office if the Executive Mayor Nelson Mandela Municipality.
In a thrilling climax to the 50-year celebration of Eastern Province Women's Golf, Caitlyn Macnab and Jordan Rothman went toe-to-toe for the bragging rights of the Eastern Province Border Stroke Play Championship last weekend.
Showing extraordinary skill in the easterly wind that raged between 50 and 70 km an hour at the infamous Links on day one, Macnab navigated the five-club wind to set the first round target at three-over 75 in the morning.
The Benoni golfer led by two shots from Randpark's Kajal Mistry and Tara Griebenow from Durbanville, while Rothman was seven shots adrift after an opening 82.
As conditions intensified, Macnab retained the lead with a battling 81, but Rothman from Durbanville closed the gap significantly in the afternoon session. The 2018 Sanlam SA Women's Amateur winner fired two birdies down the stretch for a 75 to inch within a shot of Macnab's 36-hole target at 156.
A double for Macnab at the last for a 73 and bogey from Rothman for a 72 saw the GolfRSA Elite Squad pair tie for the lead on 13-under at the end of regulation play.
"We're best friends, so it was tough for us to go into a play-off, but that is par for the course in this sport, so we had to buckle down," said 17-year-old Macnab.
The pair headed back to the first tee and nailed their tee shots down the fairway.
"We had the wind in our backs. I went first and absolutely bombed my drive. It went ridiculously far. Jordan also found the fairway, but I was at least 50 metres ahead of her. She had to go for it, but unfortunately she flew the green.
"I hit a little lob-wedge middle green. Jordan had to up-and-down to win and she hit a really great chip from a tough spot just short of the flag. It was me to putt first and I put it a foot from the hole. Her par putt lipped out and I had a tap-in for par to win."
Victory lifted Macnab to first in the Junior Rankings and cemented her third spot in the Open Amateur standings. It was also a welcome vindication after a frustrating trip to the Annika Invitational USA.
"I'm absolutely ecstatic about this win," said Macnab.
"I had such high expectations for the trip to Florida last month. I loved the Slammer and Squire Course at the World Golf Village at first sight, but my swing deserted me in the first round."
Fellow GolfRSA Elite Squad member Kaiyuree Moodley led the tournament through 36-holes and eventually lost in a play-off, while Macnab struggled, posting rounds of 77 and 81.
"I hit a lot of errant tee shots and I spent a lot of time at the range trying to figure out the problem," she said. "Something clicked after the second round and I hit 14 fairways and 14 greens in the final round for a two-under 70 that saw me share the low round honours.
"I was really proud of the comeback and for having worked through the problem and that's why this win is so significant for me. I brought a lot of positives back from the Annika Invitational USA and I was able to draw on that here at Humewood. It all helps me to be the best version of what I can be.
"Jordan won the Bridge Fund Managers Junior Series at Durbanville in a play-off, so I am sure she'll forgive me this one. I would like to congratulate her on a great fight and for being so gracious in defeat.
"This was the first year that the Eastern Province and Border events were combined and we think it was a great idea. It was a great tournament with a strong field and it was great to see so many of the top ranked players support it.
"I would like to thank Executive Mayor Mongameli Bobani and the Nelson Mandela Bay Municipality for their generous support of Eastern Province Women's Golf. Also, thank you Eastern Province Women's Golf for hosting us and Humewood for a giving us a pristine course. It's just a pity you couldn't switch off the fan."
Final Result (top 10)
229 Caitlyn Macnab 75 81 73 (play-off, 1st hole)
229 Jordan Rothman 82 75 72
234 Kajal Mistry 77 82 75
234 Kaiyuree Moodley 78 79 77
235 Kiera Floyd 78 81 76
236 Tara Griebenow 77 81 78
240 Liezl Smit 82 81 77
243 Demi Flanagan 78 83 82
245 Samantha Whateley 81 88 76
245 Zethu Myeki 81 86 78
Written and released by Lali Stander on behalf of GolfRSA.
ST AUGUSTINE, Florida (14 January 2019) – South Africa's Caitlyn Macnab departs for the United States on Tuesday to join fellow GolfRSA Elite Squad member Kaiyuree Moodley for the 11th Annika Invitational USA, presented by Rolex, in Florida.
The tournament is named for Hall of Fame member Annika Sorenstam, whose foundation conducts six junior golf tournaments in the USA, China, Europe, Sweden, Latin America and Australia/Asia.
Since the first event in 2009, 45 players have gone on to earn LPGA cards and more than 600 are playing college golf.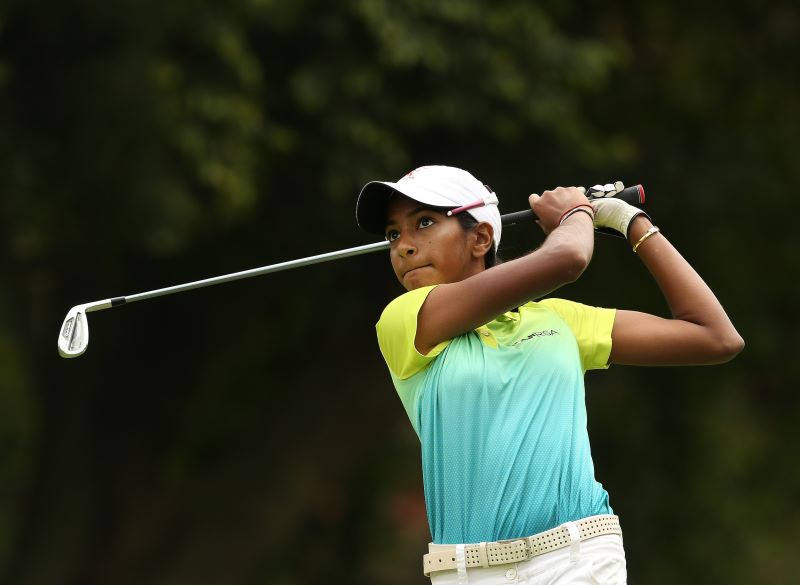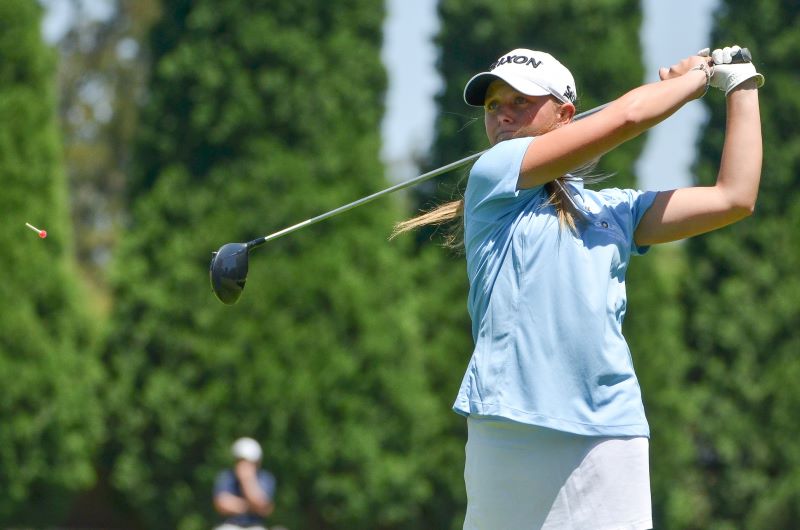 PHOTOS – GolfRSA Elite Squad members Kaiyuree Moodley from Bryanston and Serengeti's Caitlyn Macnab; credit GolfRSA.
The prestigious tournament returns to the Slammer & Squire course at the infamous World Golf Village in St Augustine for the second year in a row, where 72 of the world's top girls, aged 12 to 19, will do battle in the 54-hole stroke play event from 19-21 January.
The field is dominated by top ranked American Juniors, who will line up against competitors from 15 other countries.
The international field consists of 6 Chinese, five Canadians, a trio of Argentineans, a pair each from Italy, South Africa, South Korea, Colombia and Mexico and single entries from England, Finland, Japan, Sweden, France, Norway and the Philippines.
Among the top players in this year's line-up is defending champion Angelina Ye, a senior at the IMG Academy in Bradenton, Florida, world number 13 Alessia Nobilio from Italy, the runner-up in the Youth Olympics and World Junior Girls Championship.
Moodley went up against some of the top ranked juniors in the Girls Competition at the 2018 Youth Olympics in Argentina, while Macnab will also have encountered some of this year's campaigners during the Espirito Santo Trophy at the World Amateur Team Championship in Ireland last year.
Moodley – second in the Womens Golf South Africa Junior Rankings – has been in the United States since last week visiting colleges and arrived at the World Golf Village on Sunday.
"I have had a nice vacation with my family and it has helped, coming from a hot South African summer, to adjust to the winter weather," said the 17-year-old Bryanston golfer.
"Our official practice round and the Junior-Am Fundraising Tournament is only on Friday, so I hope to get out on the course earlier to have a good look at the layout. Kajal Mistry and Woo-Ju Son, who represented South Africa last year, told us the ball doesn't travel as far here as it does back home, so I would like to test distances before we start the tournament."
Third-ranked Macnab is looking forward to her return to the United States.
"As youngsters, Kai and I competed in several US Kids Championships and it was a fantastic learning curve," said the 17-year-old Serengeti golfer. "We are over the moon to have the chance to compete against some of the best juniors in the world; it's going to be an incredible week."
Womens Golf South Africa president Sally Greasley said the tournament is a wonderful opportunity for the South African pair to gain valuable international experience.
"It's wonderful to see Cat and Kai star in such a stellar line-up," Greasley said. "This event is one of the premier tournaments on the American Junior Golf Association schedule and we are extremely grateful to the Annika Sorenstam Foundation and the AJGA for affording the WGSA an opportunity for a second year running to give two of our top juniors this opportunity.
"We embrace every invitation for our juniors to compete abroad, because you cannot put a price on the experience they gain from testing themselves against their peers abroad. They will meet and learn from Annika Sorenstam, who is arguably the most successful female golfer of all time and is very involved in the event.
"Annika personally meets all the players at the welcome dinner and interacts with them throughout the tournament. She hosts a clinic after their official practice round and this year will address the rules changes with the field. On Sunday, she will present some of the segments of the "More Than Golf" seminar, which covers nutrition, fitness, media relations, course management, as well as the college admission process. And she is always at the 18th green at the end of play.
"I believe her personal touch goes a long way in instructing the juniors on etiquette, how to interact with sponsors, the importance of giving back to golf and setting an example for the young girls just starting in the game."
The field will also attend the Callaway Golf Junior Amateur Awards reception and dinner, hosted by the World Golf Hall of Fame.
Written and released by Lali Stander on behalf of GolfRSA.