ORKNEY, 3 July 2019 – South Africa's number one ranked Caitlyn Macnab lived up to her star billing when she celebrated her 10th start in the Nomads SA Girls Championship with a trophy finish on Tuesday.
There is an old saying in golf – "beware the sick golfer" – and on this occasion it was the sick golfer who came out on top at Orkney Golf Club.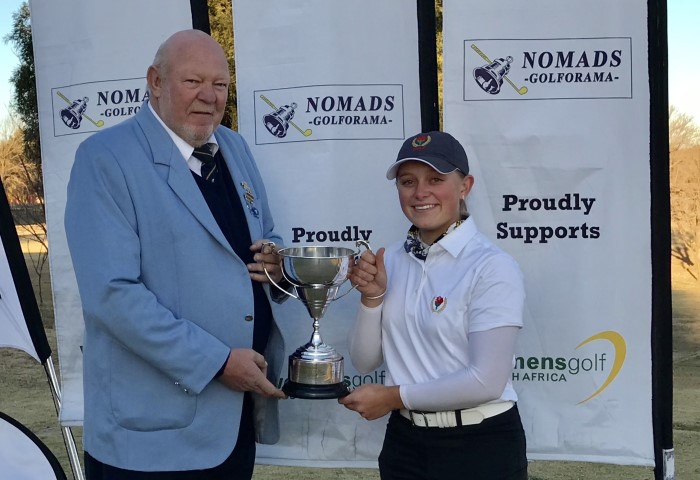 2019 Nomads SA Girls champion Caitlyn Macnab receives the championship trophy from Nomads Golf Club of South Africa national chairman Neels Bezuidenhout at Orkney Golf Club; credit GolfRSA.
The 17-year-old from Serengeti Estates carded a final round one-under-par 71 to edge out fellow Ekurhuleni golfer Kiera Floyd by one stroke on four-over 220, lifting the title and the ultimate prize it carries – a start in the Duke of York Young Champions Trophy in September.
GolfRSA Junior Proteas Macnab, Floyd & Kaiyuree Moodley claimed a sixth place finish in the Toyota Junior Golf World Cup two weeks ago, but as soon as the team arrived back on home soil last Sunday, Macnab and Moodley both went down with swine flu..
"Kai had to withdraw and I was a doubtful starter after spending four days in bed, but I came because I had to try," Macnab said.
"I have dreamt of winning the Nomads SA Girls since I first teed it up as a seven-year-old. It's the most amazing feeling to be the champion; I am just over the moon. I was really nervous on the first day, because I hadn't hit a ball for nine days. I didn't expect to lead the first round, but after that it was all about playing for the win."
Macnab opened with a one-over 73, but shot 76 in round two to surrender the lead to Floyd.
The 14-year-old Ebotse junior headed into the final round with a one stroke lead after successive rounds of 74, but Macnab levelled the score with a birdie start. She pulled two shots clear when the Floyd bogeyed the par three second. Two holes later, though, Floyd was back in control.
"I ended up in the water at six after my tee shot stayed right," Macnab said. "I had very little room to work with after I ended up behind a tree and we were back to all square when I made a soft double."
Floyd dropped shots at five and seven, but countered with birdies at six, eight and nine and Macnab surrounded a bogey at eight with birdies at seven and eight.
Macnab and Floyd are both members of the Grant Veenstra Junior Golf Academy and have played golf together for years. "I knew it would go right down to the wire," said Macnab.
"We have played against each other and we've together for Ekurhuleni in the SA Women's IPT and the SA Women's 72 Hole Teams. We won the All Africa Junior Golf Challenge together and in Japan, we both shot 69 in the final round. I knew she would fight right up to the last putt."
Floyd took a one-shot advantage into the back nine, but a bogey at the 11 left the pair tied on five-over.
"The 12th is a short par four and I hit a good drive that finished just left of the green, but I flew the chip well past the pin," said Macnab. "I holed a four-metre putt for birdie to go one ahead and I had a two-shot lead when Kiera dropped at 13. She made a fantastic bogey, though. Her approach shot landed next to the fence and she had to take an unplayable. She nearly chipped it in, but the ball hit the flag."
Despite a few nasty lip-outs Macnab managed to salvage par down the stretch.
"I was so, so happy when I sunk that final putt on 18," said Macnab while posing for a quick selfie with the Jenny Bruce Trophy. "I'm absolutely over the moon to get this done. It's not always easy to come into a tournament as the favourite. There is a lot of pressure on you. I wasn't at my best, but in the end, all that matters is the win."
In the Silver Division, the lead changed hands several times until Rumbi Chisango replaced compatriot Tracy Humbira at the top. The Zimbabwean junior had a three shot lead coming down the last few holes, but Cheslyn Jacobs gave the home crowd plenty to cheer about when she forced a play-off on 45-over with a final round 80.
"We went back to the par five 17th and Rumbi went first and hit her drive in the bush on the right. I hit mine down the fairway and my second shot pitched on the edge of the green. Rumbi hit her second into the rough on the left, but she was on the green with her third.
"I lagged my first putt to a foot and tapped it for the win after she left her birdie putt short. I am so excited, because this is huge," said the 14-year-old Jacobs from Potchefstroom. "This is the biggest achievement of my career. I'm down to a 7.2 handicap and I'm going to work really hard so I can play in the Championship Division next year."
North West Women's Golf had further cause for celebration when Lesego Aphane completed a wire-to-wire victory in the Silver Division. The 18-year-old Seasons Eco Golf Estate golfer carded rounds of 39 and 38 to win by six on 77 points, with Lea van der Merwe from Gauteng North second on 71 and Western Province's Jaden Visagie third on 69.
Maegan Webster also led the Copper Division from start to finish. The Gauteng North junior shot 34 and 31 to finish on 65, with Erin Brinkman from Eastern Province finishing in second on 51 with rounds of 24 and 27.
Championship Division – Handicaps 6.5 & under (TOP 10)
220 Caitlyn Macnab 73 76 71
221 Kiera Floyd 74 74 73
224 Symone Henriques 73 78 73
230 Isabella van Rooyen 74 79 77
232 Cara Ford 79 76 77
233 Kera Healey 78 83 72; Jordan Rothman 75 81 77; Crystal Beukes 83 71 79
234 Kyra van Kan 73 77 84
235 Nadia van der Westhuizen 79 77 79
Silver Division – Handicaps 6.6 – 15.3 (TOP 10)
261 Cheslyn Jacobs 87 94 80 (Play-off)
261 Rumbi Chisango ZIM 88 87 86
263 Tracy Humbira ZIM 89 84 90
265 Anita Chen 88 91 86
267 Kesha Louw 85 93 89
268 Lucia Mhlabane 81 94 93
269 Jutta Tecklenburg 84 94 91
274 Lizemari Richter 93 96 85; Erica Chen 92 95 87; Cinteche du Plessis 92 87 95
Bronze Division – Handicaps 15.4 – 29.3 (top 5)
77 Lesego Aphane 39 38
71 Lea van der Merwe 29 42
69 Jaden Visagie 34 35
67 Ashley Megan Huysamen 32 35
64 Laeeqa Aziz 33 31
Copper Division – Handicaps 29.4 – 36
65 Maegan Kaitlyn Webster 34 31
51 Erin Bree Brinkman 24 27
Click here for the full results
Written and released by Lali Stander on behalf of GolfRSA
NEWCASTLE, Ireland (11 June 2019) – Gauteng duo Kajal Mistry and Kaleigh Telfer will tee it up in the Women's Amateur Championship in Northern Ireland today.
The GolfRSA Elite Squad pair will face still competition at Royal County Down in one of the strongest fields ever assembled in the 116-year history of the premier women's amateur event.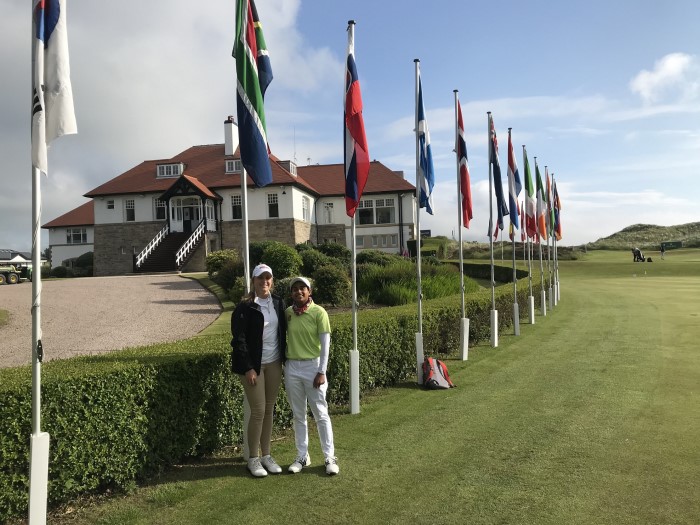 GolfRSA Elite Squad members Kaleigh Telfer (left) and Kajal Mistry from Gauteng will represent South Africa in the prestigious Women's Amateur at Royal County Down, starting on 11 June 2019; credit GolfRSA.
Telfer and Mistry have both been impressive on separate sides of the Atlantic this season.
Mistry enjoyed a fantastic run on the Sunshine Ladies Tour. Two runner-up finishes, combined with a slew of top 10s culminated in a third place finish in the Investec Property Fund Order of Merit for the Randpark golfer.
She took that form to Woodhill Residential Estate and Country Club at the end of April, where she backed up her rising star status with a rare calendar double in the SA Women's Stroke Play and Match Play Championships.
Mistry is heading to the United States in August, where she will be taking up a golf scholarship at the Arkansas University in August.
Fellow Ernie Els and Fancourt Foundation member Telfer has been competing on the US collegiate circuit for two years.
The Auburn University sophomore was the university's top finisher at both the SEC Championship and NCAA Austin Regional in her first season, and broke into the top 100 on the national GolfStat Rankings.
Telfer capped off the fall portion in 2019 with her first career collegiate victory at the Battle at the Beach in San Jose del Cabo, Mexico. Her five-under total helped the Tigers cruise to a 17-stroke victory, the program's first team win since 2014. She also placed third in the Alexa Stirling.
The Bryanston golfer proudly represented South Africa in the inaugural Augusta National Women's Amateur Championship with a joint 12th finish and in May, she was instrumental in helping the Tigers reach the semi-finals of the NCAA Women's Golf Championship.
With entries as far afield as Australia, Canada, India, New Zealand, Russia, South Korea and the United States, the 144-strong player field taking to the renowned links in Newcastle features no less than 12 players inside the top 50 in the World Amateur Golf Ranking, including world number 14 Leonie Harm, back in title defence.
The first German champion is bidding to become the first back-to-back winner since Sweden's Louise Stahle's victories in 2004 and 2005.
Italian teenager Alessia Nobilo is the highest ranked player at 12th in the world, and other in-form golfers taking to the fairways at Royal County Down include 2019 Irish and Welsh Women's Open Stroke Play champion Lily May Humphreys from England, reigning Girls Amateur Champion Emma Spitz from Austria and Irish favourite Paula Grant.
The 2019 champion gains entry to this year's AIG Women's British Open at Woburn and the 2019 Evian Championship, as well as next year's US Women's Open and the Augusta National Women's Amateur Championship.
The field will compete for the leading 64 spots in the match play stage over two rounds of stroke play on 11 and 12 June. Telfer will launch the South African challenge at 08h36 (local SA time) and Mistry is off at 14h34 in the afternoon.
Written and released by Lali Stander on behalf of GolfRSA.
PRETORIA, 3 May 2019 – Kajal Mistry produced the prize-winning shots when it mattered most to claim a historic South African amateur women's 'double crown' at Woodhill Residential Estate and Country Club on Friday.
It took a bit more work than she anticipated, but a mere three days after she won the SA Women's Stroke Play Championship for a second time, the 18-year-old GolfRSA Elite Squad member defeated Kaylah Williams at the 20th hole to lift the SA Women's Amateur Championship title.
GolfRSA Elite Squad member Kajal Mistry from Bryanston achieved the rare calendar double when she beat Kaylah Williams on the 20th hole to lift the SA Women's Amateur Championship title on the back of her wire-to-wire five stroke victory in the SA Women's Stroke Championship at Woodhill Residential Estate and Country Club; credit Ernest Blignault.
Mistry's incredible achievement put her on a short and very exclusive list of women who have claimed the calendar double in the two premier events.
In the 50 years since the SA Women's Stroke Play Championship was introduced, just seven women have accomplished this rare feat.
The 18-year-old Randpark golfer was elated to join Mandy Adamson (1992), Sanet Marais (1994), Tanica van As (2003), Cas Bridge (2001), Welch player Breanne Loucks (2008), Kim Williams (2010) and Ashleigh Buhai, who had a hat-trick of doubles in 2004, 2006 and 2007.
Hugging the SA Women's Amateur trophy – which dates back to 1906 – Mistry could barely contain her delight.
"This is awesome, awesome, awesome," gushed the Ernie Els and Fancourt Foundation member.
"It's been such an amazing week. I was trying to do my best to win both tournaments and scoop the double, but far and away, holding this trophy right now is the best feeling ever."
Mistry went wire-to-wire at Woodhill to win the SA Women's Stroke Play by five shots on Tuesday.
Seeded first in the 32-player field that lined up in the match play event, she sailed through the first two rounds on Wednesday, routing Bobbi Brown from Western Province 6 & 5 in the morning and eliminating Emily Jones from Zimbabwe by the same margin in the afternoon session.
She kept her title hopes alive with two decisive victories on Thursday when she knocked out Larissa du Preez from Gauteng North 4 & 3 in the quarter-finals and beat Ekurhuleni junior Kiera Floyd 4 & 2 in the semi-finals.
Reigning Nomads SA Girls Rose Bowl champion Williams also had impressive first round wins.
She defeated fellow Western Province golfer Vicky Traut 6 & 5 in round one, and reached the top eighth with a 5 & 3 result against Eleonora Galletti from Gauteng. The Durbanville golfer beat Symone Henriques from Gauteng 4 & 3 in the quarterfinals and birdied the 18th hole to win her semi-final match against Boland junior Megan Streicher 1-up.
Williams took first blood in the title fight with a birdie at the par five, but Mistry countered with a birdie at the par five fifth.
"I hit 5-iron just over the green, hit a not-so-great chip to three metres and drained the putt," said Mistry. "We halved the next two holes in pars, and I won the eighth after I hit a lob-wedge out of the rough right on the green and two-putted for birdie.
"Kaylah was on the green in two at 11 and birdied the hole to level the match and she went 1-up on 13 with a par. I hit a good bunker shot, but it ran out and I couldn't save par."
Williams piled on the pressure with a chip-in birdie at the par four 15th, but when she dropped at the next hole, Mistry saw her chance to pounce.
"I stayed patient and I felt composed throughout the round. When I saw that Kaylah was getting nervous after the bogey, I knew I could win if I piled on some pressure as we got closer to the 18th. I won 16 with a par after she left herself with an impossible chip.
"I knew I would birdie the par five, but things didn't exactly go to plan. I hit my drive left and couldn't go for the green, so I laid up with a 7-iron. I had 56 metres to the flag and I hit a lob-wedge that ran five metres past. I had to make the putt to square and I drained it."
The pair halved the 18th hole in pars and Mistry felt confident going into extra holes while Williams' inexperience started to show.
"We halved the 19th hole in birdies," Mistry said. "On the second, I hit a grip-down 8-iron straight at the flag. Kaylah also hit a good shot. We both finished pin high right, but I eight feet from the flag and she had a three metre putt.
"She actually hit a really good putt, but just too hard. As I was standing over the putt, I had such a strange experience. I could hear my sister Ruja's voice in my head, telling me to 'put it in'. I felt so confident over that putt and I boxed it.
"That's never happened before, but it felt so good watching that putt drop."
Mistry dominated the Open and Junior Amateur rankings in 2016 and 2017, but golf had to take a back seat as she completed matric last year. She accepted a golf scholarship at the University of Arkansas, but before heading to the United States in August, the Bryanston resident set herself a couple of goals.
Break back into the top 10 in the Womens Golf South Africa Open Amateur rankings. Finish in the top five on the Sunshine Ladies Tour's Investec Property Fund Order of Merit. Win the SA Women's Amateur double.
"I can't believe I've ticked all the boxes," Mistry said.
"I've worked really hard with my coach Darren Witter on fine-tuning my game and he deserves credit for helping me achieve the goals we set.
"I still can't believe that I've done it. I'm so incredibly proud. I can't wait to see my name go on the trophy. This week has given me a huge confidence boost and I am incredibly grateful for all the support from GolfRSA, Womens Golf South Africa, Gauteng Ladies Golf and the Ernie Els and Fancourt Foundation, who have been amazing.
"I want to dedicate this week to my family and thank them for their unconditional love and support. To them, I'm always a winner and they never allow me to doubt myself, whether my game is at a high or a low. They are my heroes."
Meanwhile 16-year-old Shani Brynard from Boland held off a late charge from GolfRSA Talent Identification Squad member Pheletso Mota to win the Flight Division 3 & 2.
Written and released by Lali Stander on behalf of GolfRSA.
PRETORIA, 20 March 2019 – Kajal Mistry slept on the lead for two straight nights and on Friday, she finished the job to lift the South African Women's Stroke Play Championship trophy for a second time.
And Mistry was not the only one to reach the winner's circle in wire-to-wire style.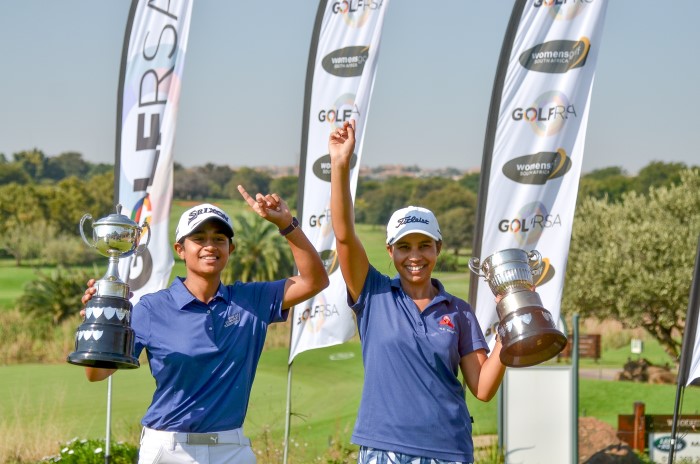 Randpark golfer Kajal Mistry (left) won the A-Division, while Kayla Paulsen (right) celebrated B-Division glory in the 2019 South African Women's Amateur Stroke Play Championship at Woodhill Residential Estate and Country Club; credit Ernest Blignault.
Western Province rising star Kayla Paulsen also led from start to finish at Woodhill Residential Estate and Country Club to seal a five stroke victory in the B-Division.
Mistry opened her campaign with a two-under-par 70 to share the lead with fellow GolfRSA Elite Squad player Caitlyn Macnab. She fired a stunning five-under 67 in the second round to start the final day four shots clear of Gauteng team-mate Symone Henriques.
Macnab was a further three strokes adrift in joint third with Boland junior Megan Streicher.
Mistry birdied three of her first five holes, but a bogey at par three 12th and double bogey at the par four 13th cut her advantage to three shots.
The 18-year-old Randpark golfer, who had been remarkably poised all week, shrugged off the back nine stumble and solid pars from the 14th hole allowed her to enjoy a long-awaited walk up the final hole.
A six-foot putt for par at the last for a final round 71 and a five shot triumph was celebrated with a water shower from her close friends and fellow GolfRSA Elite Squad team-mates.
"I really happy with the result and the way I managed my game around this tough course to win again," said Mistry.
"I played a really great round on day two to give myself a chance and I stuck to my strategy in the final round. When I won two years ago, it was the first time I experienced real pressure. This time around, I never felt under pressure and I could actually enjoy the win."
Henriques birdied the second and eagled the par five fifth, but Mistry responded with a trio of birdies.
The 2017 champion hit a knock-down pitching wedge into the second and holed the six-foot birdie putt, and rolled in a left-to-right tester from 10 foot at the fourth for birdie number two. "I was a little out of position on the left at the par five," said the Ernie Els and Fancourt Foundation member.
"I laid up with a 7-iron and I hit it about two metres past the pin. Symone was on the green in two and drained a 20 metre putt for eagle, but I got a good line from her and holed the birdie putt."
Mistry's lead dwindled to three shots after she dropped three shots at 12 and 13.
"That par three is really daunting from the elevated tee and the pin was front left and the last thing I wanted to do was go in the drink, so hit it way past the hole," Mistry said. "I lagged it close but the par putt just burned the edge.
"At 13, I hit a terrible tee shot left off the tee. I had a tree in my way and couldn't see the flag and hit my second shot in the left bunker. I had another tree in the way, so I punched out, chipped it to six foot, but missed the bogey putt on the low side.
"I learned a lot on the Sunshine Ladies Tour about letting go of bad shots, and even when the gap was reduced, I didn't let my thoughts wander. I just made sure that I kept in the moment and played for pars coming home.
"I'm really stoked, but there won't be much time for celebration, because the Match Play starts tomorrow. Now the pressure really starts, because anything can happen in this format. I would love to add my name to the winner's list, so I'll hit the reset button tomorrow morning."
Macnab battled a balky putter on day two and struggled with the flat-stick for most of the final round, but something clicked as the Serengeti golfer came down the home stretch. She fired three birdies on the bounce from 16 to close out a runner-up finish with a three-under 69.
Henriques signed for a 74 to finish in third on one-under.
Two-time Bridge Fund Manager Junior Series winner Kiera Floyd reeled in a trio of birdies from the ninth on her way to a final round 71 that earned the 15-year-old Ekurhuleni junior fourth on her own on one-over.
Gauteng's Kaiyuree Moodley closed with an even-par 72 to round out the top five on two-over.
Western Province Women's Golf Development Squad graduate Paulsen was over the moon after edging out Kamaya Moodliar from KwaZulu-Natal with rounds of 87, 85 and 87 to win the B-Division. "I had low expectations coming here because Woodhill is such a tough course, and I'm so happy with the result.
"The course was quite long and the greens are so tough to read, but I was really happy with the way I started this week. I wanted to test myself against the field, and I really managed myself well. Now I can leave for Texas to start at Ranger College with a big win under my belt.
"I couldn't have done this without the support of Western Province Women's Golf. Their financial, emotional and coaching support has been incredible since I joined the squad five years ago, so I am definitely sharing this trophy with our president Maureen Weimar and all the amazing people at Western Province Women's Golf."
A-Division Final Result
208 Kajal Mistry 70 67 71
213 Caitlyn Macnab 70 74 69
215 Symone Henriques 74 67 74
217 Kiera Floyd 73 73 71
218 Kaiyuree Moodley 74 72 72
219 Kaylah Williams 76 72 71; Megan Streicher 71 73 75
220 Zethu Myeki 76 73 71
225 Larissa du Preez 73 77 75
227 Jordan Rothman 79 71 77; Stephanie Barbaglia 76 73 78
228 Gabrelle Venter 77 73 78; Samantha Whateley 79 71 78
232 Marine Legentil 76 81 75; Zane Naude 76 79 77
234 Emily Jones ZIM 81 74 79; Liezl Smit 76 74 84
236 Kaylan Boshof 78 80 78; Kera Healey 78 78 80; Nadia van der Westhuizen 75 80 81
237 Kim de Klerk 83 79 75; Eleonora Galletti 78 81 78
238 Sandra Winter 81 77 80; Danielle Bekker 76 81 81
239 Nicola Schoeman 83 82 74; Kyra van Kan 83 80 76; Vicki Traut 81 79 79; Demi Flanagan 78 81 80; Nina Grey 74 79 86
240 Alisa Rich 84 77 79; Annalie Swanepoel 76 79 85
241 Bobbi Brown 79 80 82
242 Isabella van Rooyen 86 78 78; Heidi van der Berg 79 80 83
246 Bronwyn Leigh Doeg 80 85 81
247 Lizzie Currie 85 82 80
248 Ineke Brynard 83 88 77; Teagan Lubbe 85 82 81
250 Lauren Clough 81 86 83; Eva Magala UGA 84 79 87
252 Anika Smit 87 86 79; Shani Brynard 83 87 82; Lynne Behagg 81 87 84; Tebogo Lefifi 82 82 88
253 Senayah Moodliar 79 90 84
256 Holly Lau 82 86 88
257 Charlene Oosthuizen 87 89 81; Petrone Rudolph 85 84 88
258 Pheletso Mota 86 90 82
260 Odette Booysen 86 84 90
262 Elizabeth Lightley 95 84 83
263 Melani Grobler 92 86 85
266 Gloria Mbaguta UGA 89 94 83; Millie Dondashe 88 95 83
268 Jessica Meyer 87 94 87; Megan Kraft 85 86 97
269 Ellandri van Heerden 94 88 87
282 Rouchelle Eksteen 98 91 93
285 Gizelle van der Westhuizen 98 95 92
WD Lize-Mari Prinsloo 93 WD WD
B-Division Final Result
259 Kayla Paulsen 87 85 87
264 Kamaya Moodliar 88 91 85
268 Jutta Tecklenburg 90 89 89
280 Melinda van den Heever 89 104 87; Rene Matthee 93 94 93
285 Zoe Heyneke 98 96 91
289 Anesu Gavaza 92 96 101
293 Sinead Rice 96 100 97; Amanda Kieser 93 98 102
WD Bonolo Thato Tshite 132 106 WD
Written and released by Lali Stander on behalf of GolfRSA.
AUGUSTA, Georgia (7 April 2019) – South Africa's Kaleigh Telfer closed out a top 12 finish at Augusta National as the world's top-ranked amateur Jennifer Kupcho from the United States became the first champion of the Augusta National Women's Amateur on Saturday.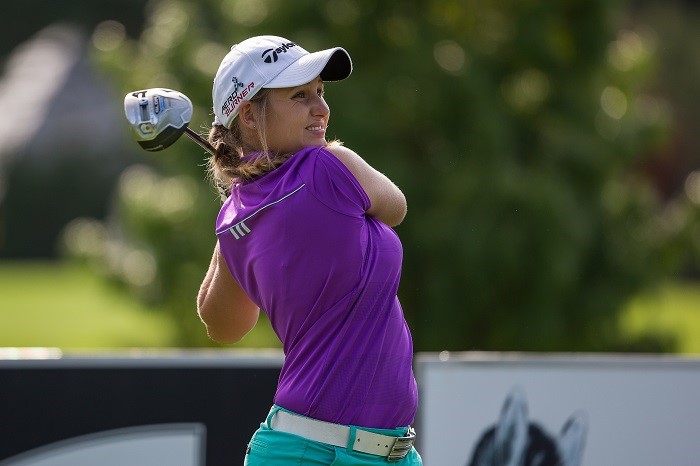 GolfRSA Elite Squad member Kaleigh Telfer; credit GolfRSA.
Telfer began the inaugural event strong and was third on her own after an opening three-under-par 69 at the Champions Retreat Golf Club and looked a shoe-in for the top 30 who would contest the final round on the hallowed turf of the Masters venue, but a second round 76 to slip to three-over landed the GolfRSA Elite Squad in a sudden-death play-off for the last 10 spots.
The Bryanston golfer made a spectacular up-and-down in extra time to seal her start at Augusta National.
After a bumpy front nine, Telfer found her stride and reeled in birdies at 13, 15 and 17 for a one-under-par 71 to tie for 12th on two-over 218.
Kupcho was trailing playing partner Maria Fassi from Mexico by two strokes after 12 holes, but she played her final six holes in five under par to prevail.
An eagle on the par-five 13th kick-started impressive second-nine stretch for the Wake Forest senior that also featured birdies on the par five 15th, par three 16th and the iconic par four closing hole, where she drained a 25-footer for victory.
Earlier in the round, 21-year-old Kupcho fought a migraine that resulted in blurry vision, but she battled back to record a five-under-par 67 – fittingly, the lowest round of the championship – to win by four strokes on 10-under-par 206.
"It's always a great feeling to win, but to win at Augusta National is an experience like none other," said the champion. "Just to get to walk the fairways and walk up 18 with as many fans as there were was amazing.
"I think, first of all, for me to hit the first tee shot of the tournament was a great honour. And then to be able to hit the last putt and to win, it's just amazing. It's an amazing feeling, to have my brother here, to have my parents here, everyone out there supporting me. It was quite a day."
Reigning Asian Games gold medallist Yuka Saso from the Philippines and Japan's Yuka Yasuda tied for third on two-under 214.
Zoe Campos (72), one of the youngest players in the field at age 16, and Kaitlyn Papp (74) were tied for fifth at one-under-par 215, while Sweden's Beatrice Wallin shared seventh on even-par with Haylee Harford and Haley Moore from the United States.
Americans Sierra Brooks and Alice Hewson rounded out the top 10 on one-over 217.
Written and released by Lali Stander on behalf of GolfRSA.