PILAR, Argentina (5 November 2018) – GolfRSA National Squad pair Luca Filippi and Therion Nel want to up the ante in this week's 59th Argentine Amateur Championship after placing fifth in the International Team Competition in the 47th Juan Carlos Tailhade Cup on Sunday.
Mateo Fernandez de Oliveira and Martin Contini sealed Argentina's third victory in the 21st edition of the Team Competition on even-par 560, while Filippi and Nel posted rounds of 150, 139, 145 and 145 to tie Brazil for fifth on 19-over 579.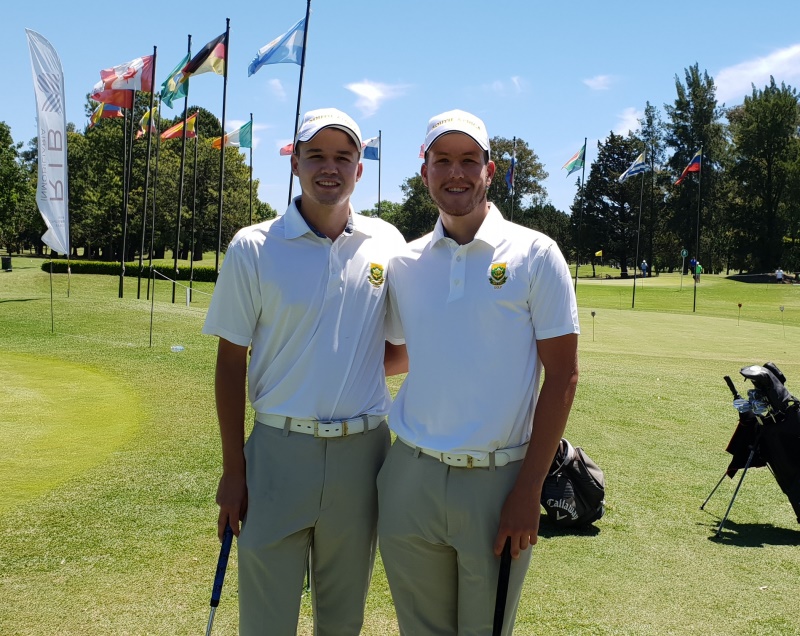 PHOTO – GolfRSA National Squad players Luca Filippi from Milnerton and Therion Nel from Bloemfontein at the 47th Juan Carlos Tailhade Cup at Los Lagartos Country Club in Argentina; credit GolfRSA.
Meanwhile local teenager Guillermo Estivill gave the home crowds plenty to cheer about when he claimed the Individual title on three-under-par 277, winning by three shots from a four-way tie for second at Los Lagartos Country Club.
Filippi from Milnerton was well placed after rounds of 75 and 65, but slipped to joint 13th on six over 286 with a third round 74 and final round 72. Nel from Bloemfontein returned rounds of 75, 74, 71 and 73 to tie for 37th on 13-over 293.
Both Ernie Els and Fancourt Foundation players admitted to battling in the hot and windy conditions on the final day, but were upbeat about the opportunity competing in Argentina presents.
"I played the front nine in two under, but I was four over on the back nine in the final round and to be honest, my short game and putting was messy," said Filippi.
"I've been hitting the ball nicely tee to green all week, but I averaged about 34 putts per round. That's just not good enough. I've had a great time in Argentina with Therion, though. It was disappointing to slip from a tie for fifth to outside the top 10, but it's been an incredible experience for both of us. Lots of lessons learned this week and hopefully we both do better in the Argentine Amateur Championship next week."
Nel said both players felt they let themselves down with silly mistakes and will need to keep the bogeys to a minimum to do well in their next start.
"It could have been better for both of us, but we both let ourselves down with silly mistakes," he said.
"I made a poor start in the final round and I was three-over after five. I brought it back with birdies at seven and eight to turn one-over and kept it going nicely, but then had a soft drop at 15. And I couldn't up-and-down from a bad lie in the bunker at 18.
"When we arrived, we felt well out of our comfort zone, but we are adjusting to the weather and the heat. The host families have been amazing and we are very grateful to have this experience. If we can tighten up, I believe we could have a really good week at Highlands Country Club."
The 59th Argentine Amateur Championship tees off from 7 – 10 November.
Written and released by Lali Stander on behalf of GolfRSA.
CAPE TOWN, 18 October 2018 – GolfRSA National Squad members Luca Filippi and Therion Nel hope to stake another winning performance for South Africa in two top international events in Argentina in November.
Nel from Free State and Filippi from Western Province will travel to Buenos Aires on 29 October and spend two days preparing to extend the country's fine record in the Juan Carlos Tailhade Cup at Los Lagartos Country Club from 1-4 November.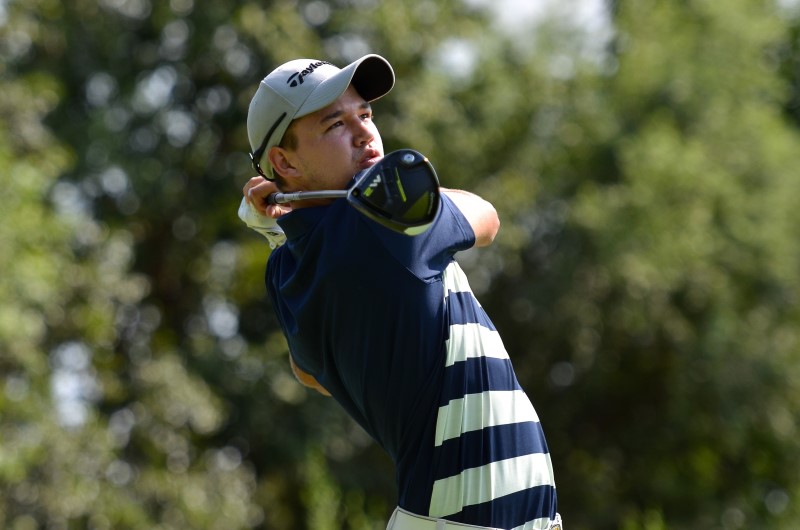 Luca Filippi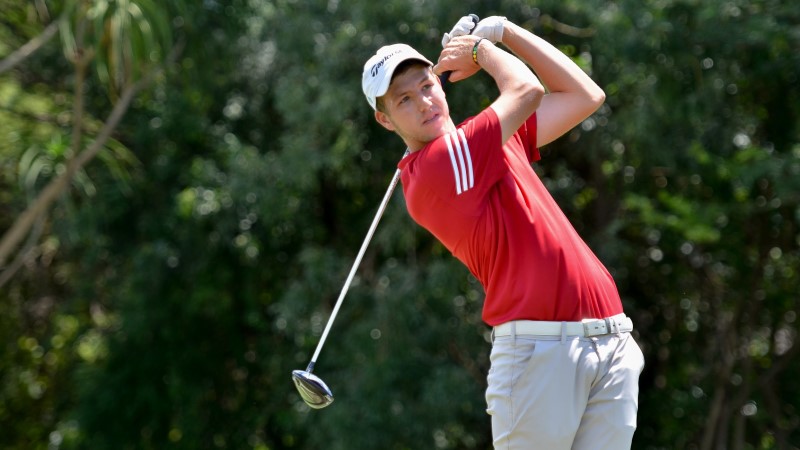 Therion Nel
PHOTOS: Luca Filippi from Western Province and Therion Nel from Free State will be representing South Africa in the Juan Carlos Tailhade Cup and the Argentine Amateur Championship in Argentina this November; credit Ernest Blignault.
The high-rated Juan Carlos Tailhade Cup comprises a team event and an Individual Competition and South Africa has a proud history, with two victories and a string of top five finishes over the past eight years.
Former Masters champion Trevor Immelman and Sunshine Tour stalwart Ulrich van den Berg claimed South Africa's first success in 1999, while Ryan Dreyer and JG Claassen combined for the country's second triumph in 2009.
In 2011, Jared Harvey and Graham van der Merwe rallied for a third place finish and Drikus Bruyns partnered CJ du Plessis to joint fourth in 2012. Gerlou Roux and Callum Mowat finished fifth in 2014, as did Tristen Strydom and Teaghan Gauche a year later.
Kyle McClatchie and Aubrey Beckley also took fifth in 2016, with Matt Saulez and Malcolm Mitchell combining for fourth place last year.
Following the prestigious international Teams Tournament, it's each man for himself in the 123rd Argentine Amateur Championship. The world's sixth-oldest amateur championships will be staged at Highland Park Golf Club from 7-11 November.
South African Golf Association President Geoff Taylor is confident that Filippi and Nel are up to the challenge ahead.
"Therion and Luca have both performed incredibly well this season with multiple victories at home and both players excelled during the mid-year GolfRSA National Squad Tour to the United Kingdom and Ireland," said Taylor.
"Therion made the cut in all of the four events he contested and so did Luca in his two starts. They both reached the match play stage in The Amateur Championship, with Therion going through to the third round and Luca reaching the top 16.
"They are both deserving of their national colours and we are pleased to offer them the chance to gain further experience against top-ranked amateurs from all over the world."
Filippi has risen to fourth in the Open Amateur rankings this season. In his last six starts, he won the Southern Cape Open, shared victory in the KwaZulu-Natal Stroke Play Championship and enjoyed runner-up finishes in the Western Province Stroke Play and Match Play Championships and the Border Amateur Stroke Play.
"I am really grateful to GolfRSA, the South African Golf Association and the Ernie Els and Fancourt Foundation for another opportunity to test myself abroad," said the 19-year-old Milnerton golfer.
"This trip will be even more of a learning curve as Therion and I are travelling on our own without a manager to a country where we have never competed before. It's very exciting. I think the biggest challenges for us will be the language barrier with the families that we will be staying with and the heat, with temperatures in the high thirties. Hopefully we adjust quickly. We are both super excited to represent South Africa and hopefully win the Team Competition."
Ernie Els and Fancourt Foundation stablemate Nel is the only amateur with a hat-trick of victories to his name this season. The 20-year-old collected trophies in the Northern Cape Open, Limpopo Open and Border Stroke Play and surged to fifth in the Open Amateur rankings.
"Every athlete dreams of representing his country and I feel very privileged to have been given the honour of wearing the green and gold in Argentina," said Nel.
"Luca and I have known each other for nearly 10 years and we have become good friends through the Foundation over the last two years. We had a great time on the GolfRSA National Squad Tour and I think we will be a good combination in Argentina.
"We've chatted to Matt and Malcolm about their trip last year. They both enjoyed it immensely. They said the courses are similar to what we know here in South Africa, but the heat is extreme, so we will need to be prepared for hot days. We are just going to take it one day at a time and play to our strengths and hopefully that leads to victory in Argentina."
In addition to Argentina, South Africa and defending champions Canada, this year's event has drawn entries from Switzerland, Ireland, New Zealand, Canada, Chile, Uruguay, Peru, Colombia, Venezuela, Mexico and Brazil.
"You really cannot put a price on the value or the impact of international competition and these two events represent a fantastic opportunity for two of the rising stars from our GolfRSA National Squad to further their golfing careers," said GolfRSA CEO Grant Hepburn. "We are extremely pleased to offer Luca and Therion this opportunity and we wish them well during their campaign in Argentina."