ABERDEEN, Scotland (20 June 2018) – Bobby Cole is the one and only South African winner in the 123-year history of the Amateur Championship, but South Africa's leading amateur Wilco Nienaber wrote his own bit of history when he won the stroke play qualifier in Scotland on Tuesday.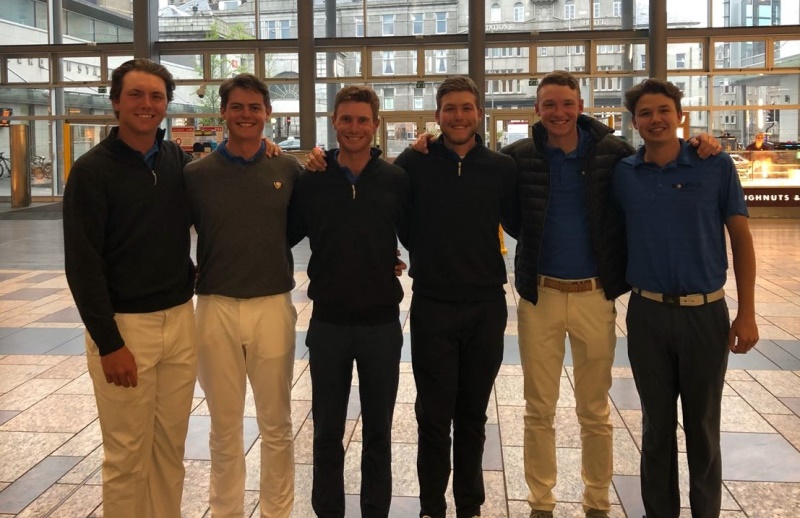 PHOTO – Six of the best and smiles all-round! The six GolfRSA National Squad players who reached the knockout stages of the 123rd Amateur Championship at Royal Aberdeen in Scotland; credit GolfRSA.
Left to right: Jovan Rebula, Wilco Nienaber, Malcolm Mitchell, Therion Nel, Matt Saulez and Luca Filippi.
The 18-year-old GolfRSA National Squad player became the first South African medallist since qualifying was introduced in 1983 when he beat world number five Victor Hovland from Norway in the 123rd edition at Royal Aberdeen Golf Club.
Nienaber led the 288-strong field with a first round four-under 66 at the Murcar Links and went wire-to-wire with a four-under 67 to triumph on eight-under 133.
And the Bloemfontein golfer will not be the lone South African to start the Match Play stage at Royal Aberdeen on Wednesday.
In a coup for the GolfRSA National Squad, Matt Saulez finished fourth, Malcolm Mitchell tied for ninth and Ernie Els and Fancourt Foundation trio Jovan Rebula, Therion Nel and Luca Filippi also made the top 64.
A 12-time winner in 2017, Nienaber vaulted to number one after his third place finish in the South African Stroke Play Championship. He bagged two victories at home this season and came agonisingly close to a third international title when he lost in a play-off at the Brabazon Trophy.
The plus-5 handicapper from Free State has been warming up for amateur golf's showpiece since he teed it up in the Lytham Trophy in early May with fellow team-mates Saulez and Mitchell.
"After Lytham, we joined some more GolfRSA National Squad players, including Therion, at the Irish Amateur," said Nienaber. "Over the last six weeks, we played a lot of courses and championships in Ireland, England and Scotland. Jovan and Luca joined us at the St Andrews Links Trophy, which was our final preparation. There have been some tough weeks, but it has been a fantastic learning curve.
"We have links courses back home, but it's not links golf like this. I've learned it's a different game over here. Back home, if it's 180 meters, you fly it straight there. Here, if it's 180 meters, you to hit it 20 meters shorter and let it bounce in."
His growing understanding of links golf was reflected in his performance this week.
"When I heard that the GolfRSA National Squad was going to play The Amateur Championship this year, I was really excited," said Nienaber. "To finish at the top in the qualifying is great.
"I made good decisions from the tee, stuck to my game plan and hit the greens on both days. "I hit the ball really nicely. I wasn't really in trouble off the tee and didn't miss a lot of greens on both days. When I missed greens, I got up and down 90 percent of the time.
"I kept the momentum going and didn't really make a lot of bogeys. The match play stage is a different game, but winning this or finishing at the top makes me feel like I can beat the other guys, which is really nice. Bobby Cole was 18 when he won in 1966, so hopefully it's a lucky number."
Saulez from Durban Country Club followed a 72 at Murcar with a flawless 67 at Royal Aberdeen to snag fourth on two-under, while Kloof's Mitchell posted rounds of 71 at both courses to finish joint ninth on one-over.
Next best was Rebula from George Golf Club, who birdied the fifth and eagled the sixth on his way to an even-par 71 and joint 18th overall on three-over.
Nel from Bloemfontein Golf Club and Milnerton's Filippi tied for 25th on four-over. Nel carded 74 at Murcar and enjoyed a flawless back nine at Royal Aberdeen en route to a 71, while Filippi rallied after an opening 77 with a 68 that featured four birdies and a lone drop.
The four GolfRSA National Squad players who made an early exit were Christo Lamprecht, Clayton Mansfield, Jayden Schaper and Garrick Higgo.
Lamprecht carded rounds of 77 and 75, Mansfield had successive rounds of 75, Schaper bounced back from an 81 with a 72 at Royal Aberdeen and Higgo registered rounds of 77 and 81.
Seventy-seven players on six-over or better qualified for the match play stage and the field for the match play stage has a truly international flavour.
Canadian Sam Meek took third, the Australian pair of Kyle Michel and Blake Collyer finished a shot behind Saulez alongside leading English qualifier Harry Hall. Scotland's Euan McIntosh tied St Andrews Links Trophy champion John Murphy from Ireland on two-over and other internationals to reach the knockout stages include New Zealand number one Daniel Hillier, Spanish duo Victor Pastor and Pablo Rodriquez-Tabernero Torres and three of the 23 Americans in the starting line-up, led by Blake Wagoner.
Written and released by Lali Stander on behalf of GolfRSA.
ST ANDREWS, Scotland (12 June 2018) – Trouble at the notorious Road Hole for Christo Lamprecht and Therion Nel. Five bogeys for Matt Saulez. Back-to-back double bogey to start and two bogeys to finish for Luca Filippi.
You would imagine the quartet would have plenty to lament after they wrapped up the St Andrews Links Trophy in Scotland on Sunday, but they were pretty upbeat as they boarded the train with the rest of the GolfRSA National Squad for the journey to Aberdeen – and The Amateur Championship – on Monday.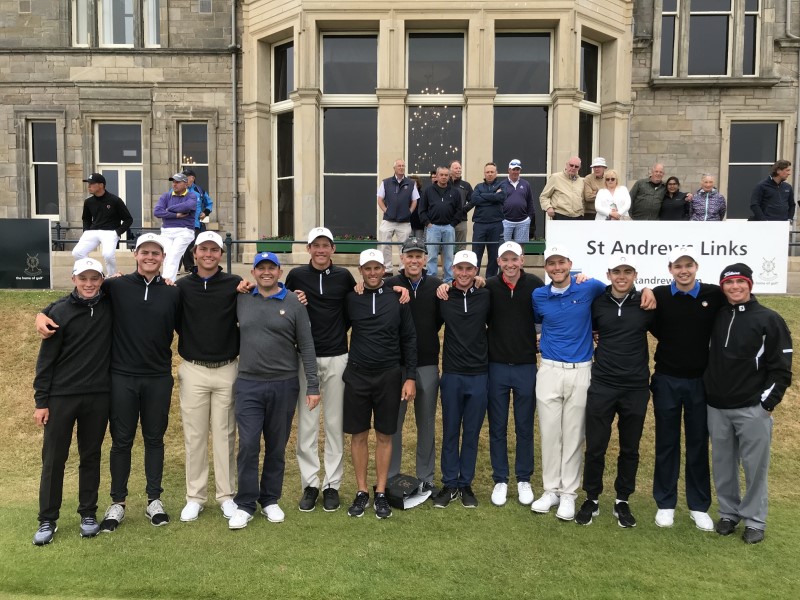 PHOTO – The GolfRSA National Squad and managers bid St Andrews a fond farewell; credit GolfRSA.
From left to right:
Jayden Schaper, Wilco Nienaber, Jovan Rebula, Neil Homann (manager), Christo Lamprecht, Clayton Mansfield, Roger Wessels (manager), Malcolm Mitchell, Matt Saulez, Therion Nel, Garrick Higgo, Luca Filippi and David Younge (manager).
"We spoke about what happened, put it in a box and forgot about it," said the 17-year-old Lamprecht from George. "You can't cry over spilled milk. It's in the past. When you choose to focus on the positives, you have a lot more to draw from in your next tournament."
Lamprecht started the final round one off the pace after rounds of 70, 67 and 71.
The rising star from the Louis Oosthuizen Junior Golf Academy reeled in birdies at nine and 16 and played flawless golf for 16 holes. With two to play, he was tied for the lead and looked set to be involved in a play-off with Irishman John Murphy, who eventually beat Jannick de Bruyn from Germany for the title in extra time.
"I had an oopsy," said Lamprecht after a triple bogey at the par four dropped him back to six-under and he had to settle for eighth place after closing with a 73.
"I hit my tee shot left and I had a 50-foot putt left to a pin that was tucked behind the bunker on the left. I had to putt against an upslope that turns left and I just didn't hit it hard enough. The ball turned left and rolled into the bunker.
"I left it in the bunker, got out on the second try and missed the putt. One of our managers, Roger Wessels, caddied for me in the final round. When I walked off the 18th green, he told me that a lot of legends of the game have done what I did. They learned from it and I did, too. What I'm taking to the Amateur is that I played great golf, I was control of my game and I scrambled really well."
South Africa's third ranked Saulez posted rounds of 72, 71 and 73. He closed with a 75 to tie for 37th on four-over.
"This was my second time playing St Andrews and without a doubt, it's one of the best places in the world to play," said the Durban Country Club golfer. "The history and feeling you get playing the Old Course is indescribable.
"I had a decent week, just one department of my game let me down and that was the putter. The strength of my week was my ball striking and my driving especially. I'm feeling good about my game heading to Aberdeen. The Amateur is the biggest event of the year for us. We have the rest of the week to grind at the small things and I'll be spending a lot of time on the putting green."
Nel relished his debut at the Home of Golf.
"It was the most amazing experience to play at St Andrews," said the Free State golfer, who tied for 38th on five-over after rounds of 75, 68, 72 and 77. "You always watch the pros during the Open and the Alfred Dunhill Links, but to walk the hallowed ground of the Old Course is incredibly special.
"I really enjoyed the tournament, but it was challenging. You can hit a good shot and the wind takes it, or you catch the slope the wrong way. You could end up in a bunker or you face a 40 metre putt. The wind, especially over the last three holes, was tough. It's all part of the magic of St Andrews. Now I'm looking forward to the Amateur and another new experience. This trip has been amazing."
Fellow Ernie Els and Fancourt Foundation member Filippi joined the UK Tour ahead of the St Andrews Links Trophy.
The Milnerton golfer got off to a fast start with a 68 at the par-71 New Course and followed with successive rounds of 74 at the Old Course. He grinded out a final round 77 to tie for 40th on six-over.
"I had a really great week, despite a really poor start in the final round," said the 19-year-old. "I was five over through four, but I fought hard to finish five over for the round. I left five birdie putts out there in the morning in the third round and if those had dropped, it would have made all the difference.
"I grew up playing links golf and I really it, so I've been preparing 10 years for this experience. I was very positive coming to Scotland and really pleased to make the cut that was so low. I'll take a lot of confidence to Aberdeen.
"I was chatting to the other guys about the UK Tour so far. The guys can't stop talking about the things they have experienced and what they've learned. What Mr Rupert's investment in the GolfRSA National Squad has meant for us…you can't put a price on it."
One of the biggest and most prestigious amateur events in the world, the 123rd Amateur Championship will be played from 18-23 June at Royal Aberdeen and the Murcar Links for the first time in history.
A total of 288 hopefuls will tee it up in the stroke play qualifier, including the 10-strong squad featuring Lamprecht, Saulez, Nel, Filippi, Wilco Nienaber from Free State, KwaZulu-Natal pair Malcolm Mitchell and Clayton Mansfield, Garrick Higgo from Boland, Jovan Rebula from Southern Cape and Ekurhuleni junior Jayden Schaper.
First round tee times can be viewed at:
https://www.randa.org/Championships/TheAmateurChampionship/Tee-Times#/competition/1340841/teetimes
Written and released by Lali Stander on behalf of GolfRSA.