PHAKALANE, Botswana (16 March 2019) – The GolfRSA Boys and Girls secured their berths in the field for the 2019 Toyota Junior World Cup in Japan with resounding victories in the Boys and Girls Competitions of the All-Africa Junior Golf Challenge in Botswana on Friday.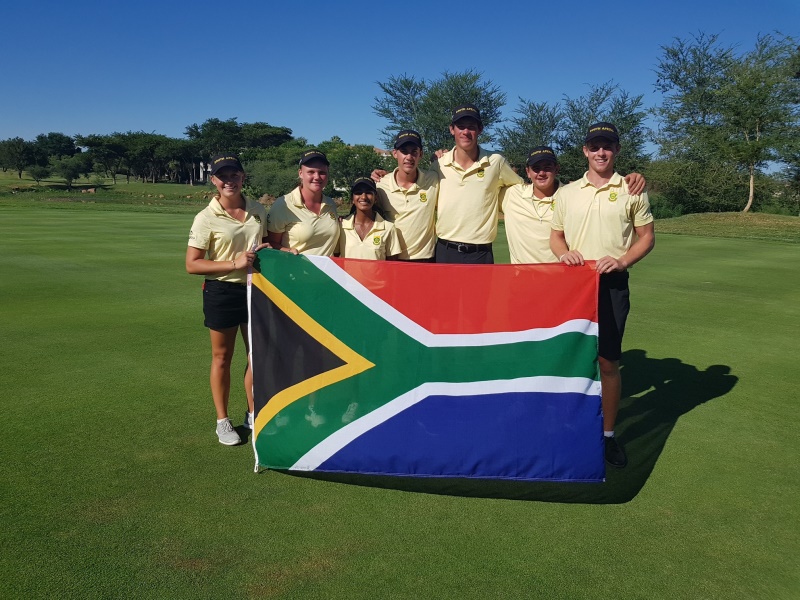 The GolfRSA Boys and Girls Teams celebrated double victories in the 2019 All-Africa Junior Golf Challenge at the Phakalane Golf Estate Hotel Resort in Botswana; credit GolfRSA.
Left to right: Caitlyn Macnab (Ekurhuleni), Kiera Floyd (Ekurhuleni), Kaiyuree Moodley (Gauteng), Sam Simpson (Western Province), Christo Lamprecht (Southern Cape), Casey Jarvis (Ekurhuleni) and Martin Vorster (Southern Cape)
The GolfRSA Girls successfully defended their title for a third successive year, while the GolfRSA Boys claimed a 21st consecutive victory for South Africa in the prestigious junior championship, hosted by the Phakalane Golf Estate Hotel Resort near Gaborone.
Ekurhuleni pair Caitlyn Macnab and Kiera Floyd and Kaiyuree Moodley from Gauteng combined for a winning score of 551. Zimbabwe edged out Nigeria with a final round 171 to finish second.
Western Province's Sam Simpson, Casey Jarvis from Ekurhuleni and Southern Cape juniors Martin Vorster and Christo Lamprecht kept South Africa's proud winning record on track with a total score of 806, while Uganda made up six shots in the final round to take second. The runner-up finish guaranteed a spot in field with South Africa in the world-class international team event at the Chukyo Golf Club in Toyota City.
South Africa also enjoyed a strong showing in the Individual Competitions.
Macnab won the Girls Competition on a total score of 20-under-par 272, with rounds of 66, 71, 67 and 68. Moodley was second on 284 and Floyd third on 290.
New GolfRSA National Squad cap Simpson won the Boys Competition by nine strokes on a winning score of 23-under-par 265 with rounds of 64, 69, 63 and 69. Runner-up Lamprecht finished on 274, Jarvis was third on 275 and Vorster's final round 68 saw him finish fourth on 276.
"It was incredibly hot on the final day and the breeze at the start of the round died pretty quickly," said Womens Golf South Africa president Sally Greasley.
"We raised the bar for the final round and all three girls played so well in blistering heat. They stayed incredibly positive and determined. This has been a fantastic tournament for South Africa. The girls have showed great humility playing with girls from Zimbabwe and Nigeria who don't have a quarter of the opportunities they do.
"Caitlyn signed off with a 68, Kaiyuree posted a 69 and Kiera carded a non-counting 71. I am so proud of the players. Despite not having strong competition, they never took their feet off the pedal and we so excited to have qualified for Japan again. They are ready for the challenge."
The final round of the Boys Competition was very challenging, said GolfRSA Manager: Golf Operations Eden Thompson.
"The Organizing Committee set the course as difficult as they could with every tee placed as far back as it could be played," he said. "It was a pretty tough day all round, and Sam and Martin definitely stood out with the way they managed their games.
"Martin led the team out and once again his ball striking was exemplary. Despite missing three putts inside five feet, his four-under 68 was the low round of the day. It was a well-constructed round of golf.
"Casey followed next. After a tough break at the first, he holed a really good eight-foot putt for bogey but unlike yesterday, he wasn't able to keep his composure and got distracted. He closed with 73.
"Christo went out third for the team and there was some concern when he pulled up on the range with what came across as a muscular spasm in his lower back and hip. After a rub and stretch, he went out to play but was never happy. He let a few shots slip on the back nine to sign for 74.
"Sam was out last and once again played solid golf with nine straight pars. After a par at 10, he made his first birdie on 11 to finally get under par. He played solid percentage golf, notched a second birdie at 15 and he closed out an emphatic individual title win with a birdie on the 18th hole for 69, marking four consecutive sub 70 rounds.
"The dynamic of the team was great and the players backed each other up really well in this tournament format. We are excited to take these four young stars to Japan and we believe that they have the ability to do really well in the Toyota Junior World Cup.
"Our sincerest thanks to the Botswana Golf Union on behalf of both South African teams for their hospitality and for hosting another successful All-Africa Junior Golf Challenge. Congratulations to the SA Girls team on their achievement and we would like to thank GolfRSA National Squad psychologist Theo Bezuidenhout, who was an invaluable member of the team."
Second Round Scores – Boys Competition
806 South Africa 200 200 196 210
899 Uganda 222 227 223 227
903 Morocco 229 218 219 237
909 Zambia 231 218 225 235
928 Zimbabwe 236 232 225 235
961 Nigeria 240 243 231 247
973 Namibia 244 244 234 251
980 Egypt 248 243 236 253
994 Eswatini 255 247 237 255
1027 Gabon 259 252 250 266
1029 Tanzania 259 245 248 277
1031 Mauritius 254 257 251 251
1062 Botswana 260 268 262 272
Final Result – Girls Competition
551 South Africa 139 138 137 137
679 Zimbabwe 173 170 165 171
743 Nigeria 187 185 183 188
Written and released by Lali Stander on behalf of GolfRSA.
CAPE TOWN, 12 March 2019 – GolfRSA National Squad members Wilco Nienaber and Therion Nel from Free State, Ekurhuleni's Jayden Schaper and Luca Filippi from Western Province have been tasked to continue the country's proud record in the Africa Region 5 Golf Tournament in Namibia this April.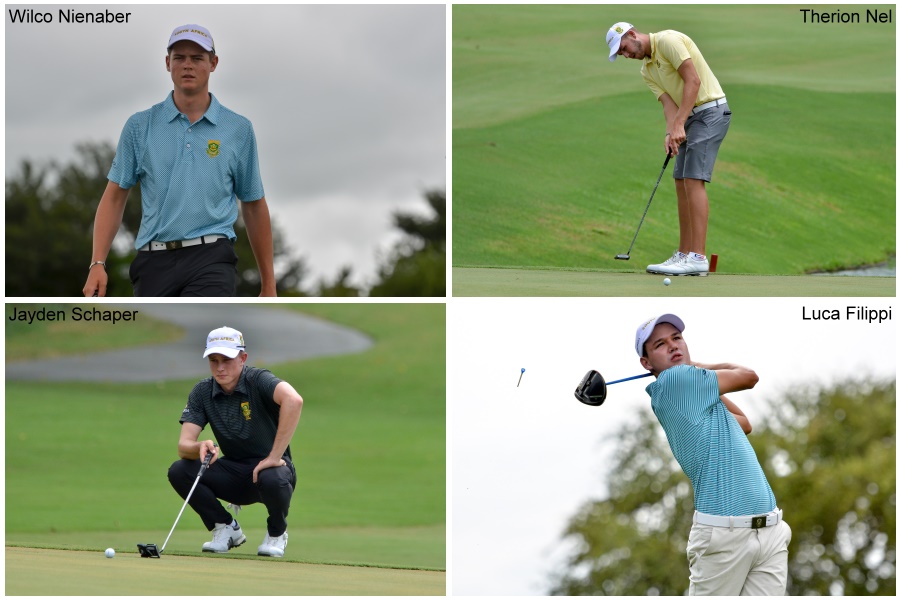 PHOTOS – World number 31 Wilco Nienaber will lead fellow GolfRSA National Squad members Therion Nel from Free State, Ekurhuleni's Jayden Schaper and Luca Filippi from Western Province in South Africa's title defence in the Africa Region 5 Golf Tournament in Namibia in April; credit Ernest Blignault.
The Africa Region 5 Golf Tournament, formerly known as the Zone VI Golf Tournament, adopted the new name and new format three years ago.
The teams play an 18-hole stroke play qualifier on the first day, which determines the seeding order for the match play knock-out stage of the tournament.
South Africa has dominated the event since re-admittance in 1995 with just two losses when Kenya won in Botswana in 2010 and Uganda beat South Africa at home in 2016.
The South African teams won all their titles outright, except in 1998, when they beat Swaziland in a count-out of holes up.
The local quartet will endeavour to keep the winning record alive and hunt down a 23rd consecutive victory at Rossmund Golf Club from 8 – 11 April.
South African Golf Association President Naadir Agherdien is confident that the team is up to the task.
"All four players got off to a good start this season, but they can back this up with exceptional performances in 2018," he said.
"Wilco has maintained the number one ranking for more than a year and following his recent Sanlam South African Amateur Championship victory, he showed maturity beyond his years this past week to rally after a disappointing start on the European Tour, make the cut and finish the Qatar Masters with a top 50 finish.
"Jayden shot to number two in the Open Amateur Rankings, courtesy of strong performances in the Africa Amateur, SA Amateur and his SA Stroke Play Championship win, while Luca and Therion represented South Africa with honour in Argentina towards the end of last season, and have stretched their solid form in 2018 into strong results this season.
"I believe the team is further strengthened by the bond they forged during the GolfRSA National Squad Tour to the United Kingdom and Ireland last year.
All 10 of the Region 5 countries will be participating this year, including Angola, Botswana, Lesotho, Malawi, Mozambique, Namibia, SA, Eswatini (formerly Swaziland), Zambia and Zimbabwe.
"A special invitation has been extended to Mauritius," Agherdien said. "Their team have been invited to participate to gain experience, however, their scores will not count in the competition. The invitation was extended in the interest of development as their African region is not active."
GolfRSA CEO Grant Hepburn applauded the South African Golf Association on nominating a strong and capable team.
"The standard in the African premier events continue to improve and the winning margins get smaller each year," said GolfRSA CEO Grant Hepburn. "The new format of the Africa Region 4 Golf Tournament also throws the event wide open. It raises the competitive nature of this championship, because there are no second chances.
"The team will be taking nothing for granted and every player will have to perform at his best in every round. We are confident that the team the South African Golf Association has selected will rise to the occasion.
Written and released by Lali Stander on behalf of GolfRSA.