CAPE TOWN, 2 October 2017 – The South African Golf Association (SAGA) and GolfRSA is delighted to announce a new and exciting collaboration with multinational professional services network PricewaterhouseCoopers as the main sponsor and leading South African automotive retail company Super Group Dealerships as a supporting sponsor of the prestigious Senior Players Championship in 2018.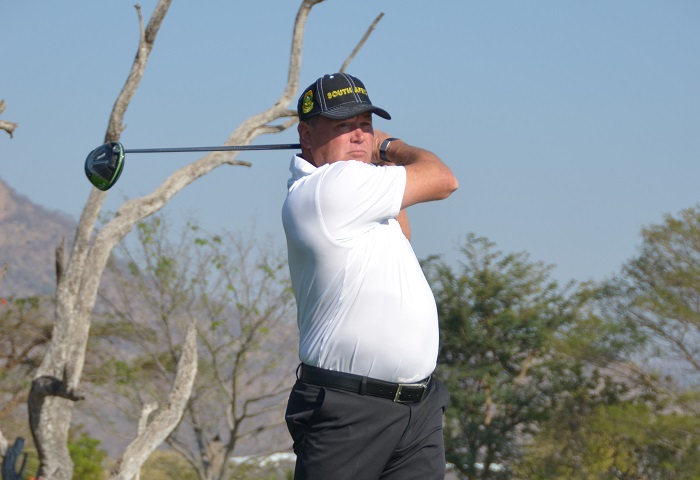 PHOTO – Players Championship defending champion Andre van Dyk; credit GolfRSA.
"Golf and business go hand in hand and PricewaterhouseCoopers and Super Group are highly reputable partners," said SAGA president Geoff Taylor. "Both companies are a perfect fit for this very prestigious, limited field championship and we could not have asked for better partners to help us grow the senior game in South Africa."
"The Senior Players Championship launched in 2012. Business entrepreneur Philip Viljoen approached SAGA with the vision of hosting a unique tournament that would reward the top 50 ranked senior amateur golfers at the end of each season. He sourced the funding himself and the first edition was played at Pecanwood Country Club in 2012. In 2013, the event moved to its permanent home at Sun City.
"With its limited field format, the Senior Players Championship has become one of the most sought-after ticket in senior amateur golf. We believe the support of PricewaterhouseCoopers and Super Group will further elevate the status of this championship."
The first edition was won by Philip Bierman, while the champions over the past five years include Peter van Coller, Lynton Beckett, Morgan Phillips, Ben Kleynhans and 2017 winner Andre van Dyk.
Van Dyk's success at the Gary Player Country Club came with a healthy boost in the senior amateur rankings and, having maintained his top five standing through the season, he was selected to the SA Seniors Team. The Boland senior made his international debut for South Africa in the Fellowship Cup Test against India at Leopard Creek last month.
GolfRSA CEO Grant Hepburn, who hosted the Indian Golf Union at Leopard Creek, welcomed the commitment from PricewaterhouseCoopers and Super Group.
"Participation in the Senior Players Championship is by qualification only, hence this event promotes and encourages a strong, highly competitive senior amateur circuit," Hepburn said.
"It is fantastic that James du Preez from PricewaterhouseCoopers and Graeme Watson from Super Group – both competitors on the senior amateur circuit – recognized the value of this event and campaigned to sponsor the Senior Players Championship. The support of these two influential partners will most certainly elevate the status of this event even further."
Du Preez, Client and Market Development leader Africa at PricewaterhouseCoopers South Africa, said the senior amateur circuit is a good fit for the company.
"We are excited to extend our global golf sponsorship to include the Senior Players Championship," Du Preez said. "Sport sponsorship plays a huge role in our overall marketing strategy. Through our sponsorships we connect with our stakeholders.
"The core values that underpin the game of golf are aligned with our own, most notably that of respect, integrity and excellence. This partnership gives us the opportunity to engage with the seniors and create leverage in this market segment, while we actively contribute by promoting a stronger, more competitive senior amateur circuit."
Super Group CEO Automotive Graeme Watson said the Senior Players Championship represents a first national golf sponsorship for the Super Group.
"This is a very exciting opportunity for us," said the former SA Mid-Amateur Stroke Play champion and former national player.
"We have enjoyed strong support for our business from senior golfers in general over the past few years and this is a nice opportunity to give something back in return. We like the Senior Players Championship concept and the venue is superb."
"Our partnership with this prestigious event not only provides us with an opportunity to promote our business among the senior competitors, but also across the entire amateur golf spectrum."
The cut-off date for the 2018 Players Championship at the Gary Player Country Club from 10-11 February is 30 November 2017.
Written and released by Lali Stander on behalf of GolfRSA, a SAGA and WGSA Not-For-Profit company.
Lali Stander
PORT ELIZABETH, 3 May 2017 - The South African golfing fraternity mourns the passing of former number one ranked senior David Konzani, who passed away this morning at the age of 55 after a year-long battle with cancer.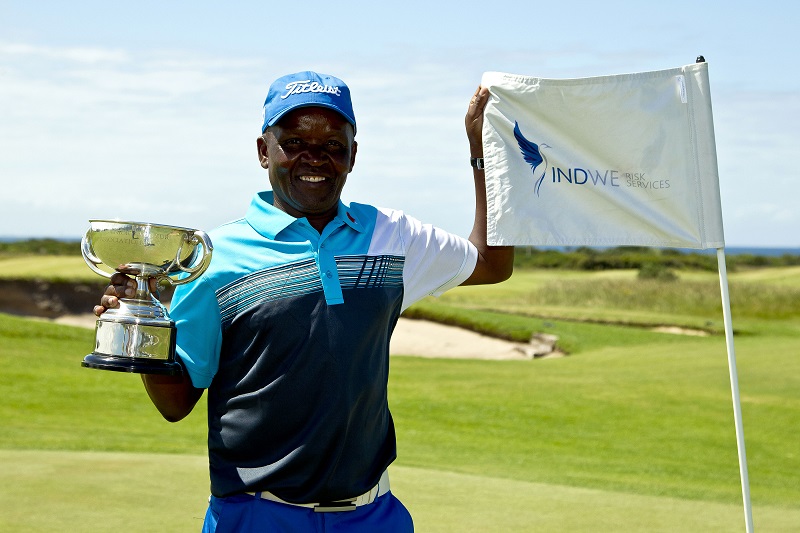 David Konzani after his 2015 SA Senior Stroke Play Championship victory; credit Michael Sheehan.
"I extend our heartfelt condolences to David's wife, family and friends and Eastern Province Golf Union on behalf the South African Golf Association and GolfRSA," said South African Golf Association president Geoff Taylor.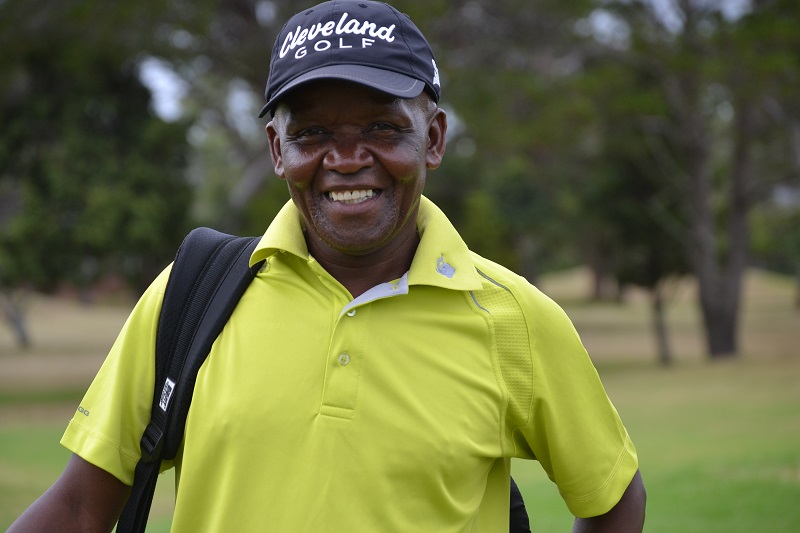 David Konzani during the 2014 SA Inter-Provincial Championship; credit GolfRSA
"Golf has lost one of its favourite sons and the Eastern Province amateur golf fraternity one of its finest senior amateur golfers. We will miss David's signature smile and his positive attitude to life, to people and to the game he loved so much.
"David was quintessential proof that golf has no age limit. In 2014 at the age of 52, he lined up alongside players less than half his age and scored eight points to help Eastern Province seal B-Division promotion in the 54th South African Inter-Provincial at Westlake Golf Club.
"In 2015, he staved off a field stacked with the top senior amateur golfers in the country to lift the South African Senior Stroke Play Championship title by a staggering 12 shots at his home course at Humewood.
"David finally realised a life-long dream to tee it up abroad when he qualified for the British Senior Amateur as the number one ranked senior amateur in South Africa, but sadly illness prevented him from making the trip. He was held in high regard by everyone in the golfing fraternity, but especially by his peers on the senior circuit. He was a highly liked and respected golfer, a force to be reckoned with, but a faithful team-mate and loyal friend."
Eastern Province Golf Union Director of Golf Greg de Doncker said Kozani's passing will leave a void that will be hard to fill for years to come.
"We are shaken and saddened by David's passing," De Doncker said.
"David's perpetual smile disguised a fiercely competitive nature and a fire to win that made him a fierce and formidable competitor. He represented Eastern Province at many levels over the course of his career, including the premier, mid-amateur and senior inter-provincials.
In 2015, David was named the Eastern Province Senior Player of the Year and he was the overall winner of the SportElizabeth Homegrown Hero of the Year Award.
"We will deeply miss this man who shared and supported the vision to grow the game and to take it from being good to being great. David greatly inspired a great many young golfers to reach for greater heights. The young players looked up to him for guidance and they admired his demeanour on and off the golf course and his respect for the game. Eastern Province amateur golf has lost a great servant.
Konzani is survived by his wife Mellia and four children. Funeral arrangements will be announced in due course.
KNYSNA, 29 April 2017 – Western Province and Gauteng North did everything possible to spoil Central Gauteng's party, but they could not stop the Lions from roaring to a successful title defence in the 30th South African Senior Inter-Provincial in Knysna on Friday.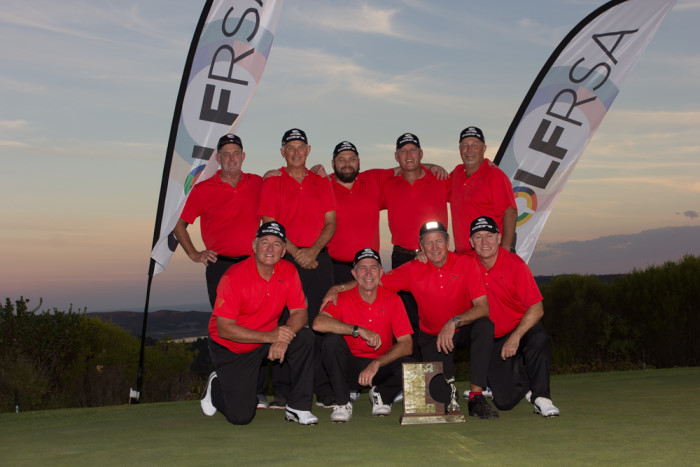 PHOTO – The 2017 SA Senior Inter-Provincial champions Central Gauteng; credit Pieter Els.
Back, left to right – Greg Gleeson, Richard Bruyns, Jaco du Plessis (manager), Richard Bruyns and Derek Reyneke.
Front, left to right – Steve Williams, Schalk Naude (captain), Jock Wellington and Stephen Johnston.
The 2016 champions put an exclamation mark on an unbeaten run in this year's A-Division contest when they drew 6-all in two tightly contested skirmishes against both teams.
Central Gauteng finished the week at the top of the pile with 12 points.
"We started the final round with a healthy cushion and a lot of guys already came to congratulate us after the third round, but the victory is never in the bag for us until the final putt drops," said Central Gauteng manager Jaco du Plessis.
The defending champions began the final charge to victory with a three point advantage over Western Province and they were four points up on Gauteng North.
"It didn't shock me when we were 1.5 – 2.5 down against Province after the foursomes," Du Plessis said. "The senior circuit is highly competitive and you can never get complacent in this format, but I had a lot of faith in our players.
"Every guy on the team had a job to do and they are the kind of players any manager would kill for. They never, ever give up. They fight until the last drop of blood to get us a win. When one player is struggling, three more step it up."
"Throughout the week the two Steves in the top order (Steve Williams and Stephen Johnston) was absolutely sublime. Our middle order – stalwart Jock Wellington, skipper Schalk Naude and the ever-green Greg Gleeson – kept the momentum going and our rookies Derek Reyneke and Rurik Gobel were so impressive. Richard Bruyns, the first man out in the singles on the final day, got us the most important halve of the week. There was always someone putting their hand up."
Central's number one Steve Williams won both his matches and number two Johnston defeated Herman September from Province 1-up, but went 2-down to Gordon Wessels from Gauteng North.
Wellington and Gleeson had a tough day at the office with losses both ways, but Naude picked up the slack with a proper captain's innings. He railroaded Conrad Rauch from Gauteng North 6 & 5 and beat Tony Bailey 2 & 1 to keep the side going against Western Province.
Reyneke lost 5 & 3 to Henry Trevena from Province, but he beat Christie le Roux from Gauteng North 4 & 2 and Gobel won his games 3 & 2 and 2-up.
"Richard was narrowly beaten by Adrian Kriel from Gauteng North, but he squared against Dave Johnston from Province," said Du Plessis. "Stephen's win and Richard's halve got us to 6-all with Western Province and Rurik and Steve's put us all-square with the Daisies.
"I am incredibly proud of this team's achievement. Like I said, it's a team effort. That is the philosophy Andy (Truluck) and I drill into all our players. There is a time when you play for yourself, but this is the week where everything you do is for your team-mate. Their commitment to each other was the key to their success here in Knysna. There were no heroes here this week; just eight guys who batted for each other."
Not surprisingly, five players from the victorious team featured in the top 10 on the Most Valuable Player's (MWP) list.
Top spot went to former SA Mid-Amateur Stroke Play champion Graeme Watson from Ekurhuleni, who amassed 13 points and helped his team to beat Southern Cape 7.5 – 4.5 and KwaZulu-Natal 6.5 – 5.5 in the final round to take third spot in the final log.
Williams and Johnston tied for second with 12 points, Bertus Smit from Southern Cape finished fourth with 11.5 points and Reyneke and Naude shared seventh on 10 points with Kevin Monk from Ekurhuleni. Gobel tied for 10th with Western Province pair Dave Johnston and Craig Polton.
Western Province sealed the runner-up spot for a second successive year with 10 points after defeating Gauteng North 7 – 5, while Southern Cape downed KwaZulu-Natal 8 – 4 to take fourth in the standings ahead of Gauteng North, who lost 7 – 5 to Western Province.
KwaZulu-Natal finished in sixth spot and North West edged out Mpumalanga for the wooden spoon, sending last year's winners back to the B-Division.
Senior A-Division Final Round Results
North West 6.5 vs Mpumalanga 5.5
Central Gauteng 6 vs Western Province 6
Central Gauteng 6 vs Gauteng North 6
Western Province 7 vs Gauteng North 5
Ekurhuleni 6.5 vs KwaZulu-Natal 5.5
Ekurhuleni 7.5 vs Southern Cape 4.5
KwaZulu-Natal 4 vs Southern Cape 8
Seniors A-Division Final Log
(Position, Union, Played, Win, Draw, Loss, Points, Games)
1 Central Gauteng (7, 5, 2, 0, 12, 56.5)
2 Western Province (7, 4, 2, 1, 10, 48.0)
3 Ekurhuleni (7, 4, 1, 2, 9, 46.5)
4 Southern Cape (7, 4, 0, 3, 8, 47.0)
5 Gauteng North (7, 3, 1, 3, 7, 43.0)
6 North West (7, 2, 0, 5, 4, 34.0); Kwazulu-Natal (7, 2, 0, 5, 4, 34.0)
8 Mpumalanga (7, 1, 0, 6, 2, 27.0)
KNYSNA, 29 April 2017 – Eastern Province emerged as the undisputed champions in an epic battle for supremacy against Boland in the final round of the 30th South African Senior Inter-Provincial in Knysna on Friday.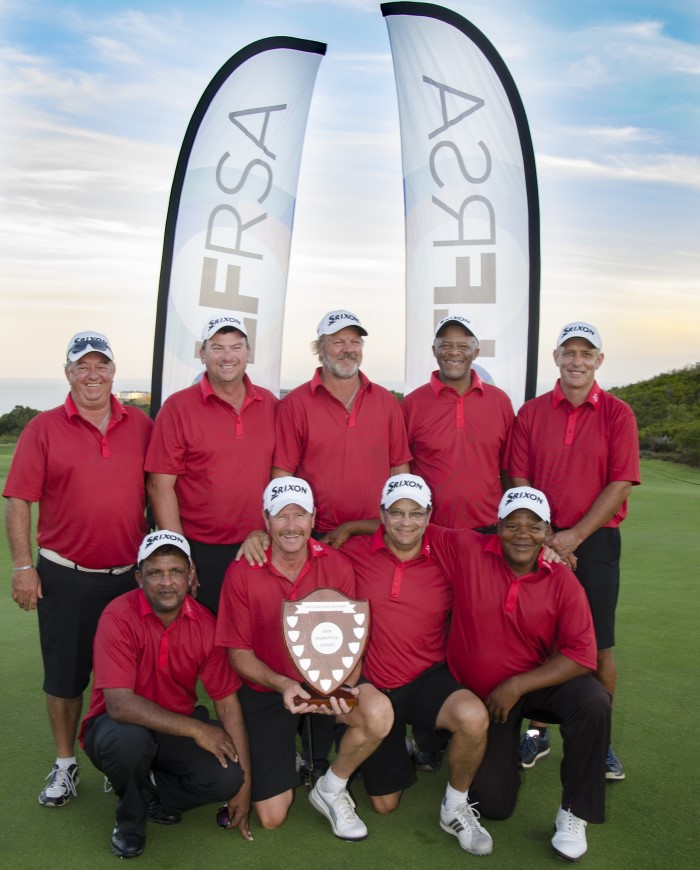 PHOTO – The 2017 SA Senior Inter-Provincial B-Division champions Eastern Province; credit Elle Redman (http://ellephoto.co.za).
Back, left to right – Deon Nel (manager), Karl du Preez, Attie Burger, Peter (Mziyanda) Zingela, Ian Pienaar
Front, left to right – Manie Daniels, Ryno Ferreira (captain), Greg de Doncker and Colin (Mkhuseli) Mavuso.
Just 12 months after the side was relegate at Kyalami Golf Club, Eastern Province beat Norrthern Cape 9 – 3 and scored a hard-fought for 6.5 – 5.5 victory over Boland to secure their passage back to the A-Division.
"The match against Boland was tightly contested, but our players all kept a cool head under pressure," said manager Deon Nel as the sun set on the championship course at Pezula Golf Estate.
"It went right down to the wire, but the single-mindedness of the players was incredible. I am so incredibly proud of the heart this team showed this week to get the promotion."
Over three days of intense battles, superb shot-making and pressure putts, both had gathered six points to top the B-Division log with six points. However, Boland had the narrowest of leads with 29.5 to 29 games points over Eastern Province.
"We had a three-way draw against Boland and Northern Cape and we made great start against Northern Cape to lead the foursomes 3 – 1, but we lost three of our games against Boland," said EP captain Ryno Ferreira.
Eastern Province had their backs to the wall, but Colin (Mkhuseli) Mavuso and Manie Daniels opened the batting in the singles in spectacular style.
Mavuso defeated Johan Bezuidenhout 6 & 5 and Daniels downed Nico Ross 6 & 5 to take EP's tally against Northern Cape to five points. The victories signalled Boland that these boys meant business, and the pair both got their Boland scalps later in the round.
Ferreira, Karl du Preez, Ian Pienaar and Greg de Doncker racked up four more points for Eastern Province to bank their first victory. When Du Preez whipped Franz Lohbauer 5 & 4 and Ferreira beat Andre van Dyk 5 & 4 to square the match with Boland, the bottom order stepped up the fight.
"We knew Attie Burger and Peter (Mziyanda) Zingela were going to have the toughest matches against Boland's one and two, so we had to take the pressure off our top order," said Ferreira.
"Karl and I got us level, but when I came past Greg through nine holes, he wouldn't even look at me. I still thought the poor rookie must be taking punishment from Jorrie Jordaan, but next thing we hear Greg won 4 & 3.
"Suddenly we are up on Boland. Peter and Attie were really battling, so we sent a message to Colin and Manie and those two put it into fifth gear. Colin knocked out George Bezuidenhout 2 & 1 and Manie took down Jaco Visagie 1-up.
"We were leading 6 – 3, but Attie lost 2 down to Ferdi van der Merwe and Francois le Roux beat Peter 2 & 1. Ian didn't even look our way when he came up 18. He just cosied the ball right up to the hole and made sure of the half point against Archie Steyn to get us the win."
Eastern Province was relegated in 2014, won the B-Division in 2015, but was handed the wooden spoon again last year.
"We're not going through this again next year," said Nel. "The team worked incredibly hard to prepare for this year's championship. We have a fantastic bunch of guys who fought until the last putt in every match. They never gave up and they have made me, and our union, incredibly proud."
Boland defeated Northern Cape 8.5 – 3.5 for second in the standings.
Border finished in third on six points after beating Limpopo 8.5 – 3.5 and Free State 8 – 4. And Free State held out to defeat Limpopo 7.5 – 4.5 to take fourth in the final log.
Senior B-Division Final Round Results
Eastern Province 9 vs Northern Cape 3
Eastern Province 6.5 vs Boland 5.5
Northern Cape 3.5 vs Boland 8.5
Free State 7.5 vs Limpopo 4.5
Limpopo 3.5 vs Border 8.5
Seniors A-Division Final Log
(Position, Union, Played, Win, Draw, Loss, Points, Games)
1 Eastern Province (5, 5, 0, 0, 10, 44.5)
2 Boland (5, 4, 0, 1, 8, 43.5)
3 Border (5, 3, 0, 2, 6, 33.5)
4 Free State (5, 2, 0, 3, 4, 24.0)
5 Northern Cape (5, 1, 0, 4, 2, 24.0)
6 Limpopo (5, 0, 0, 5, 0, 10.5