SASOLBURG, 19 October 2018 – Maritzburg golfer Morgan Phillips marched to a memorable seven-shot victory in the South African Senior Amateur Championship with a masterful display at the Heron Banks River and Golf Estate on Friday.
The 57-year-old was confidence and poise personified as signed for an even-par final round 71 to triumph on three-under 210.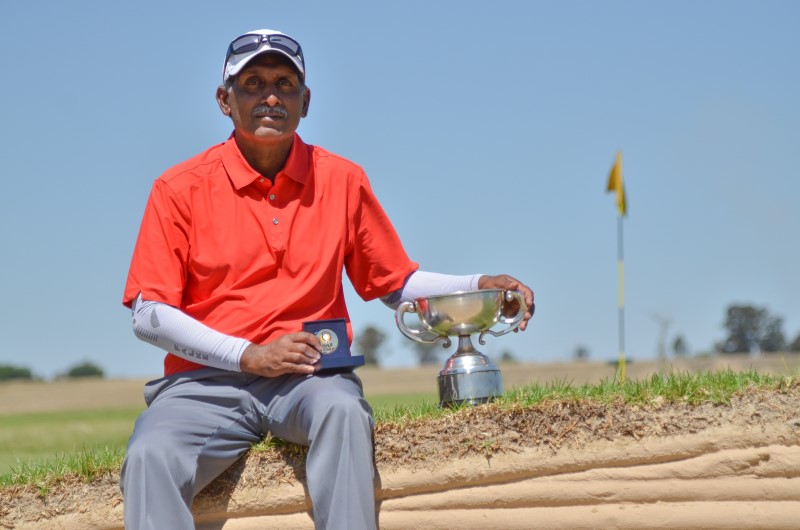 PHOTO – Maritzburg golfer Morgan Phillips claimed a seven-shot victory in the SA Senior Amateur Championship at Heron Banks River and Golf Estate; credit Ernest Blignault.
"I have dreamt of winning this championship since I joined the senior ranks, especially after I won the Senior Players in 2015," said Phillips, only the second player to have won both flagship events after reigning number one Steve Williams.
"I had a top 10 in 2016 and I tied for sixth last year, but I had to put my family first and had to scale back quite a bit on competitive golf over the last 20 months. When I arrived at Heron Banks, I had only played six tournaments this season. I had no expectations and I think that was the key to my success. I went out there, played my game, managed my game well and put together three solid rounds."
Growing up in the apartheid era, Phillips never had the opportunity to contest the SA Amateur. He was 55 years old when he earned his national colours for the first time, representing South Africa in the inaugural Fellowship Cup against India in Kolkata in 2016.
"And now I am a national champion," said Phillips. "Senior golf really is a mulligan. I can't describe the joy and pride I feel right now. This is a memory I will treasure for the rest of my life."
Phillips and Craig Kamps from Bryanston shared the first round lead on one-under, but the KwaZulu-Natal senior was flying solo after a second round 69. He started the final round with a commanding four-shot cushion on three-under, but his lead more than doubled almost immediately when Kamps triple bogeyed the par five opening hole.
After a birdie start, Phillips pencilled in another birdie at the par four sixth and pulled 11 shots clear when Kamps dropped two shots at the par four seventh. The Gauteng golfer rallied with a birdie at eight, but Phillips headed down the back nine with a comfortable 10-shot cushion.
"I made a great up-and-down birdie at one," Phillips said.
"Instead of laying up with a rescue, I took driver at six, because I had a lot of shots in hand. I hit a little cut over the trees and came up just short of the green. I chipped to three feet and holed the putt."
He bogeyed 10, but reclaimed the lead at five-under with a birdie at 13.
"I had 143 metres into a crosswind to a back flag at 10," said Phillips. "I wanted to hit a soft 7-iron in, but the ball took one bounce and shot off the back. I had no green to work with and my chip finished well past the flag. I made two good pars at 11 and 12 and hit a good drive on 13. I hit lob-wedge from 58 metres out to four foot and boxed the putt."
Kamps mounted a comeback with birdies 11, 12 and 15, but further bogeys at 16 and 18 for a final round 74 relegated the 53-year-old to second on his own on four-over 217.
Phillips didn't have it all his own way down the stretch, either.
"I just made a good up-and-down at 14 to save par after I pulled my 4-iron, so I feeling confident," he said. "Then I drove it into the hazard at 15. I took the penalty drop and made a great up-and-down for bogey, but at 16, the same story. Another hazard and another bogey.
"I still had a six-shot lead, though. I made a good par at 17, but I caught the lip of the greenside bunker at 18. I hacked it out on the green and holed the par putt.
"At no point in the final round did I assume I would win. You can never do that in golf, no matter how big your lead is. What happened to Craig at the first could have happened to me at any time. I just kept my head down and played shot-for-shot. I think my course management also played a huge part in getting the win. I hit my tee shots and approaches in the right spots and I putted really well."
The one-two finish meant Phillips moved to third in the Senior Rankings and Kamps vaulted to fourth in the standings.
The pay-off was spots on the Senior Team for the third Fellowship Cup against India at the end of November alongside number one ranked Williams and Francois le Roux, ranked second. Fifth ranked Andre van Dyk was named the non-travelling reserve.
Final Result
210 Morgan Phillips 70 69 71
217 Craig Kamps 70 73 74
221 Barry Sundelson 75 78 68; Stephen Johnston 76 73 72; Derek Reyneke 71 74 76
222 Christo Reyneke 77 72 73; Wilhelm de Kock 73 75 74; Rurik Gobel 76 70 76; Ramon Rahme 73 73 76
223 Attie Burger 76 73 74; Basil Naidoo 72 76 75
224 B Chernotsky 74 72 78
225 Jock Wellington 76 74 75; William Skinner 75 74 76
226 Pieter Cooper 72 76 78
227 Gordon Wessels 77 77 73; Joe Wood 79 75 73; Ian Espitalier Noel MRI 76 77 74
228 Schalk Naude 77 75 76; Anthony Franklin 75 77 76; Stephen Cullen 72 73 83
229 Bruno van Eck 74 81 74; Phillip Bierman 77 73 79; Graeme Watson 74 75 80; Stanley de Beer 76 69 84
230 Johan Marais 77 73 80; Alex Pillay 77 71 82
231 Hannes Spies 77 78 76; Steve Smit 81 74 76
232 Brian Mampies 83 77 72; Richard Brooker 76 82 74; Parmanandhan Govender 79 76 77
233 Adrian Kriel 78 81 74; David de Noroonha 81 77 75; Dave Jessup 80 77 76; Christian Pienaar 79 78 76; Mark O'Brien 82 75 76; Jannie Schutte 77 79 77
235 Trevor Smith 81 78 76; Ernest Motase 80 78 77
236 Gregory De Doncker 79 82 75; Phillip Croukamp 81 79 76; Johan Mostert 77 82 77; Joe Phiri 78 80 78; Lynton Beckett 77 78 81; Leslie Meyer 76 75 85
237 Ben Kleynhans 81 80 76; Pierre Smith 80 78 79; Colin Mavuso 77 78 82
238 Rodney Smith 79 82 77
239 Rajen Sewgolum 84 78 77; Donny Smith 78 80 81; Robbie Massiceti 80 75 84; Stephen Rossiter 80 74 85
240 Lucas Lebeko 83 78 79; Gerard Blaauw 79 81 80
241 Mohapi Malaka 79 79 83
242 Mark Matthews 83 77 82
243 Warren Banks 83 79 81; Henk de Meyer 80 78 85
244 Etienne Durandt 83 79 82; Fanus van Niekerk 82 80 82; Eric Mhlongo 75 82 87; Smart Ncube 78 76 90
245 Eric du Toit 83 79 83
246 Steven Meyer 82 80 84; Lawrence Franklin 78 82 86
Written and released by Lali Stander on behalf of GolfRSA.
ST FRANCIS LINKS, 26 April 2018 – The Lions powered their way to the top step of the winner's podium in the Senior division of the SA Senior A Inter-Provincial for a third successive time, while Southern Cape claimed the Super Senior prize at St Francis Links on Friday.
SENIORS
Central Gauteng closed out their hat-trick of title with two convincing conquests in the final round. The Lions ran rampant over Ekurhuleni, winning the Foursomes 4 – 0 and racking up five more points in the Singles to triumph 9 – 3.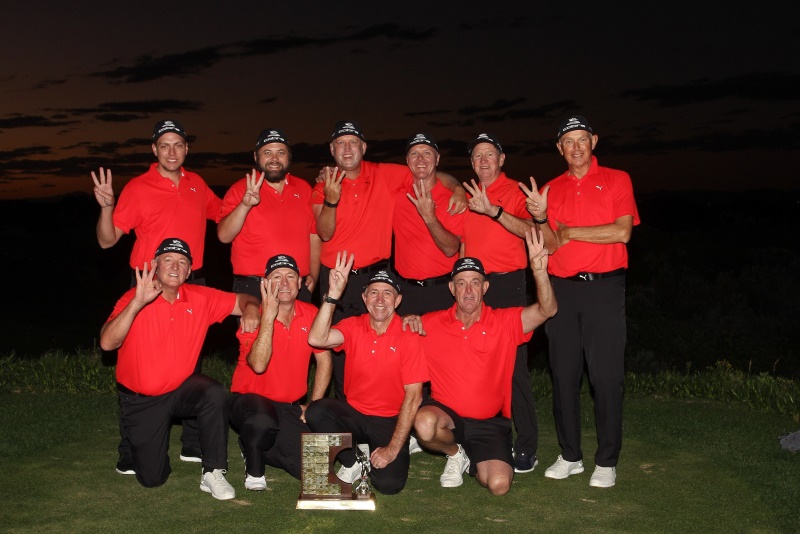 The Lions celebrated a hat-trick of SA Senior A Inter-Provincial titles with an unbeaten performance at St Francis Links; credit Pieter Els.
Back, left to right: Andy Truluck (Assistant Manager), Jaco du Plessis (Manager), Rurik Gobel, Craig Kamps, Jock Wellington, Richard Bruyns.
Front, left to right: Steve Williams, Stephen Johnston, Schalk Naude (Captain) Greg Gleeson
Although the clash with former powerhouse Western Province proved slightly tougher, the side capitalised on a 3.5 – 0.5 lead in the morning session to drive home a 7.5 – 4.5 victory in the Singles.
"The Foursomes were key for us," said manager Jaco du Plessis. "Starting with a lead means nothing in this format and we decided at our last team meeting to take nothing for granted. We were going hard from the get go and that meant a strong Foursomes result."
Rookie Craig Kamps and Richard Bruyns took first blood in both matches.
Captain Schalk Naude and veteran Jock Wellington also went two-for-two. Greg Gleeson and Rurik Gobel beat Rodney Smith and Kevin Monk from Ekurhuleni 5 & 4, but drew against Japie Koopman and Craig Poulton from Province.
Steve Williams and Stephen Johnston covered the tail-end with a point a piece.
"Going into the Singles on the front foot took pressure off the guys in the Singles, but that said, this is a team where everyone plays for every point," said Du Plessis.
"There are a lot of strong players on the team. Steve is number one in the country; Jock was out there playing in his 18th SA Senior IPT; Stephen, Schalk and Greg are very experienced. Rurik, in his second senior IPT and Craig in his debut topped the Most Valuable Players list this week. I could put these eight players anywhere in the batting order and they would still play to win."
Gleeson got his revenge on Koopman when he beat the Western Province player 5 & 4 and Gobel took the side to 5.5 points when he defeated Poulton 3 & 2. However, Province gained some traction with victories from Julian Visser, Ralph Richardson and Brian Mampies.
Camps added a valuable point when he eliminated Henry Trevena 1-up and halves from Bruyns and Williams sealed their hat-trick.
"I'm absolutely ecstatic and I know every guy on the team shares in this celebration," said Du Plessis.
"Andy Truluck, my assistant manager and I have worked incredibly hard over the last five years to foster a one-for-all philosophy in our IPT teams. And this team personifies that culture. You could see that commitment, determination, focus and drive in all their matches.
"We came into the week with a big target on our backs, but we never lost a match. I think that speaks volumes about the spirit and character of this team, who really deserve this victory."
Central Gauteng closed out the tournament with 10 points and 43 games points, while Western Province took second on nine points and 33.5 games points after beating Ekurhuleni 8.5-3.5.
Eastern Province beat North West 9 – 3 to finish in third with four points, while KwaZulu-Natal, Gauteng North and Southern Cape took fourth, fifth and sixth respectively.
North West and Ekurhuleni both accumulated just two points in the tournament, but North West left Ekurhuleni holding the wooden spoon when they won in games points – 24 to 15.5.
SUPER SENIORS
Southern Cape also ended the week on a high note after beating Gauteng North 4 – 2 and handing Ekurhuleni a 5 – 1 drubbing in the final round.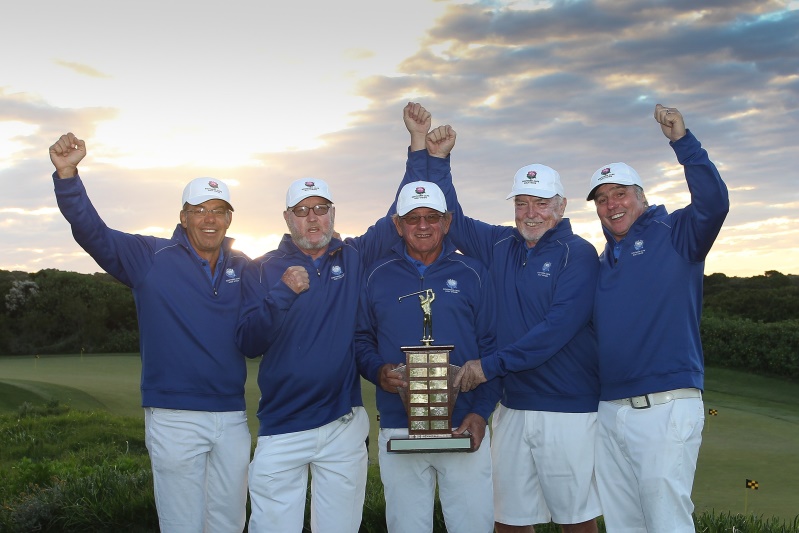 Southern Cape edged out Gauteng North for victory in the Super Senior competition of the 2018 SA Senior A Inter-Provincial; credit GolfRSA.
From left to right: Pieter Els (manager), Solly Rautenbach, Bertus Smit, Neil Abrahamse and Johnny Millar.
Neil Abrahamse and Solly Rautenbach lost both their Foursomes but Abrahamse carved out a narrow 1-up victory over Vaughan Sammons from Ekurhuleni for a valuable point. Rautenbach mowed down Ekurhuleni's William Berry 8 & 7 and routed Rinus van Niekerk from Gauteng North 2 & 1.
Johnny Millar and Bertus Smit won 5 & 3 against Berry and David de Noroonha from Ekurhuleni and they downed Gauteng North pair Adrian Kriel and Etienne Groenewald 2 & 1. Millar beat Kriel 3 & 2 and defeated Michael Lekhuleni 1-up, while Smit drove the final nails in their opponents' coffins when he knocked out Groenewald and De Noroonha 5 & 4.
Southern Cape topped the log with nine points, Gauteng North was second with eight and Central Gauteng third with seven points. KwaZulu-Natal accumulated three points to take fourth, Western Province was fifth with two points and, like their team-mates in the Senior Division, Ekurhuleni finished at the bottom of the barrel with one point.
SENIORS A DIVISION RESULTS – Final Round
Central Gauteng 7.5 – Western Province 4.5
Central Gauteng 8 – Ekurhuleni 4
Western Province 8.5 – Ekurhuleni 3.5
Southern Cape 6.5 – Gauteng North 5.5
Southern Cape 6.5 – KwaZulu-Natal 5.5
KwaZulu-Natal 7 – Gauteng North 5
Eastern Province 9 – North West 3
SUPER SENIORS A DIVISION – Final Round
Southern Cape 5 – Ekurhuleni 1
Southern Cape 4 – Gauteng North 2
Gauteng North 6 – Ekurhuleni 0
Central Gauteng 4 – Western Province 2
Central Gauteng 5 – KwaZulu-Natal 1
KwaZulu-Natal 4 – Western Province 2
SENIORS A DIVISION FINAL LOG
Pos / Union / Played / Won / Draw / Loss / Points / Games Points)
1 Central Gauteng (7, 7, 0, 0, 14, 59.5)
2 Western Province (7, 5, 1, 1, 11, 46.5)
3 Eastern Province (7, 4, 1, 2, 9, 47)
4 Southern Cape (7, 3, 2, 2, 8, 41.5)
5 KwaZulu-Natal (7, 3, 0, 4, 6, 48)
6 Gauteng North (7, 2, 0, 5, 4, 44.5)
7 North West (7, 1, 0, 6, 2, 27)
8 Ekurhuleni (7, 0, 2, 5, 2, 22)
SUPER SENIORS A DIVISION FINAL LOG
Pos / Union / Played / Won / Draw / Loss / Points / Games Points)
1 Southern Cape (5, 4, 1, 0, 9, 19.5)
2 Gauteng North (5, 4, 0, 1, 8, 21)
3 Central Gauteng (5, 3, 1, 1, 7, 19.5)
4 KwaZulu-Natal (5, 1, 1, 3, 3, 12)
5 Western Prov (5, 1, 0, 4, 2, 11.5)
6 Ekurhuleni (5, 0, 1, 4, 1, 6.5)
Written and released by Lali Stander on behalf of GolfRSA.
HARTEBEESPOORTDAM, 27 April 2018 – Border produced an unparalleled performance over five rounds at Pecanwood Golf and Country Club to win the promotion battle in the South African Senior B Inter-Provincial, but Boland denied Border a double celebration in the Super Senior division on Friday.
SENIORS
Border was tied with Mpumalanga on six points, but trailed the log leaders by just half a games point as the two teams headed into battle in a three-way clash with Boland on the final day.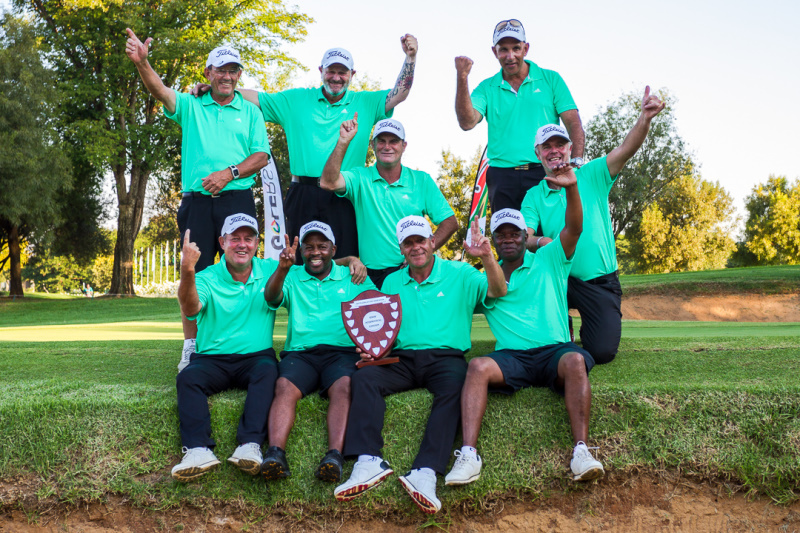 Border sealed the coveted promotion with a flawless performance in the SA Senior B Inter-Provincial at Pecanwood Country Club; credit GolfRSA.
Back, left to right: Denis Jones, Ant Traub and Udesh Pillay (manager).
Middle, left to right: Duncan Neill and Johan Vosloo.
Front, left to right: Norman Phillips Job Gobizembe, Jakkie Visagie and Ben Jonas.
After the morning session wrapped up, Border started the Singles tied 2-all with both teams, however, Mpumalanga lost the Foursomes 1 – 3 to Boland and that was all the inspiration Border needed as the three teams started the Singles.
Denis Jones – a veteran of some 50 Inter-Provincials – prove once again that golf has no age limit.
The 67-year-old East London golfer routed Franz Lohbauer from Boland 9 & 7, while Ben Jonas mowed down reigning SA Senior Stroke Play champion Ferdi van der Merwe from Boland 5 & 4 and thumped Theo Bleeker from Mpumalanga 8 & 6.
The points added up as Norman Phillips downed Herman Adendorf from Mpumalanga 5 & 4 and dispatched Archie Steyn from Boland 3 & 2.
"We had to knuckle down to beat Free State in round four and that victory galvanised the team and motivated their final round performance," said proud Border manager Uresh Pillay.
"A team is only as good as the sum of its players, but I have to single out Denis, Norman and Ben today. They gave the rest of the guys the spark to finish to job. By the time we reached the 14th hole, we already had five points in the bag against both teams and we just had to finish it off."
Duncan Neil defeated Brian Naidoo, while Job Gobizembe at six and number one Jakkie Visagie both halved to deliver a 7 – 5 result against Mpumalanga.
Francois le Roux from Boland whipped Visagie 5 & 4, but Ant Traub took their tally to six points with a 2 & 1 win over Jorrie Jordaan 2 & 1. Neill sealed the 6.5 – 5.5 victory when he drew with 2016 SA Senior Stroke Play champion Andre van Dyk.
"It was a tremendous team effort to guarantee the promotion," said Pillay.
"These are eight guys who play for each other; if one guy is struggling, he knows seven guys has his back. The key to their success is team spirit and camaraderie. We must thank Boland and Mpumalanga for a fantastic final round tusslee. They were fantastic opponents and the sportsmanship out there was top class. And we would like to congratulate our Super Senior team on a fantastic runner-up finish."
Boland trailed Mpumalanga and Border by one point at the start of the final day. After upsetting the log leaders in the Foursomes, Boland took a 3 – 1 lead into the Singles.
Le Roux beat Steve Smit 6 & 4. Archie Steyn won 5 & 4, Pieter van Coller triumphed 3 & 2 and Van der Merwe won by the same margin to take their tally to seven points. Van Dyk downed Brian Naidoo 2-up seal a second in the standings with an 8 – 4 victory.
Phillips finished the week on nine points and edged out Smit for the Most Valued Player honour with half a games point, while Le Roux finished in third on eight points.
SUPER SENIORS
Ivan Palframan, Frans Bruwer, Jackie Snyman and Ben Smit from Boland gave it one last big push against North West and Eastern Province and walked away with the Super Series title at Pecanwood.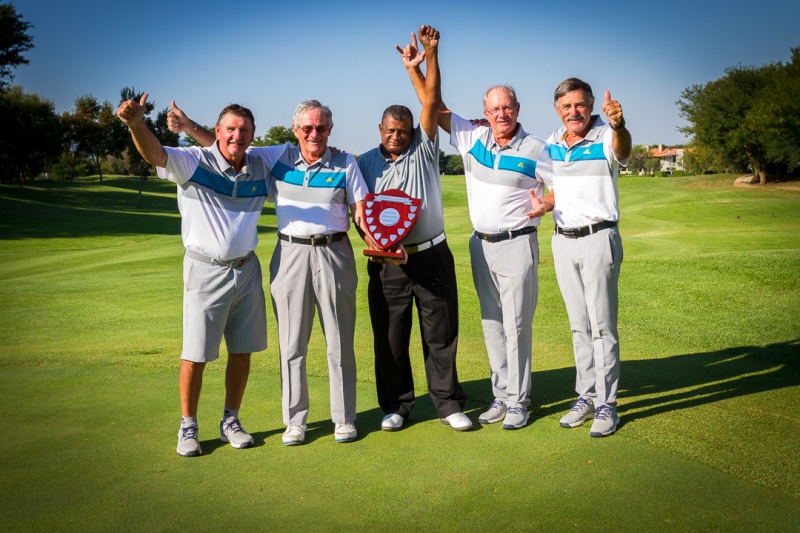 Boland won the SA Senior B-Inter-Provincial Super Seniors in spectacular style at Pecanwood Country Club; credit GolfRSA.
Left to right: Ben Smit, Ivan Palframan, Randall Newman (manager), Jackie Snyman and Frans Bruwer.
Boland lost a game to North West in the Foursomes and Lucas Lebeko routed Bruwer 8 & 7 to extend his team's lead, however Palframan mowed down number one Hennie Kruger 7 & 6. Taking their lead from the captain, Snyman won 4 & 3 and Smit won 2 & 1 for a 4 – 2 victory.
Taking a 2 – 0 lead into the Singles against Eastern Province, Snyman won 4 &, but Bruwer lost by the same margin. Smit and Palframan both halved to seal another 4 – 2 triumph.
"The four of us played together in last year's tournament at Pezula," said Palframan, who shared the top spot in the Most Valued Player list on eight points with Wakeford Dondashe from Border.
"We developed a strong bond and that relationship droves us to play all out for each other this week.
"We had a very close match against Border in the first round, but we pulled it through and that win was key to our campaign this year. Coming into the final round, every guy on the side did his bit to take us to the finish line. A huge thank you from all of is to our manager Randall Newman for his support. This is as much his win as ours. This is truly a team celebration."
SENIORS B DIVISION RESULTS – Final Round
Border 7 – Mpumalanga 5
Border 6.5 – Boland 5.5
Boland 8 – Mpumalanga 4
Northern Cape 7.5 – Free State 4.5
Free State 10.5 – Limpopo 1.5
Northern Cape 9.5 – Limpopo 2.5
SUPER SENIORS B DIVISION – Final Round
Boland 4 – North West 2
Boland 4 – Eastern Province 2
Eastern Province 3.5 – North West 2.5
Border 5 – Free State 1
Border 5 – Northern Cape 1
Northern Cape 4 – Free State 2
SENIORS B DIVISION FINAL LOG
Pos / Union / Played / Won / Draw / Loss / Points / Games Points)
1 Border (5, 5, 0, 0, 10, 38)
2 Boland (5, 3, 1, 1, 7, 38.5)
3 Mpumalanga (5, 3, 0, 2, 6, 34)
4 Northern Cape (5, 2, 0, 3, 4, 30)
5 Free State (5, 1, 1, 3, 3, 28)
6 Limpopo (5, 0, 0, 5, 0, 11.5)
SUPER SENIORS B DIVISION FINAL LOG
Pos / Union / Played / Won / Draw / Loss / Points / Games Points)
1 Boland (5, 5, 0, 0, 10, 18.5)
2 Border (5, 4, 0, 1, 8, 20.5)
3 Eastern Province (5, 2, 1, 2, 5, 14.5)
4 Northern Cape (5, 1, 1, 3, 3, 12.5)
5 North West (5, 1, 0, 4, 2, 12.5)
6 Free State (5, 1, 0, 4, 2, 11.5)
Written and released by Lali Stander on behalf of GolfRSA.
HERMANUS, 20 October 2017 – Unheralded Ferdie van der Merwe sealed a sensational maiden victory when he clinched the SA Senior Amateur Championship title in dramatic fashion at Hermanus Golf Club on Friday.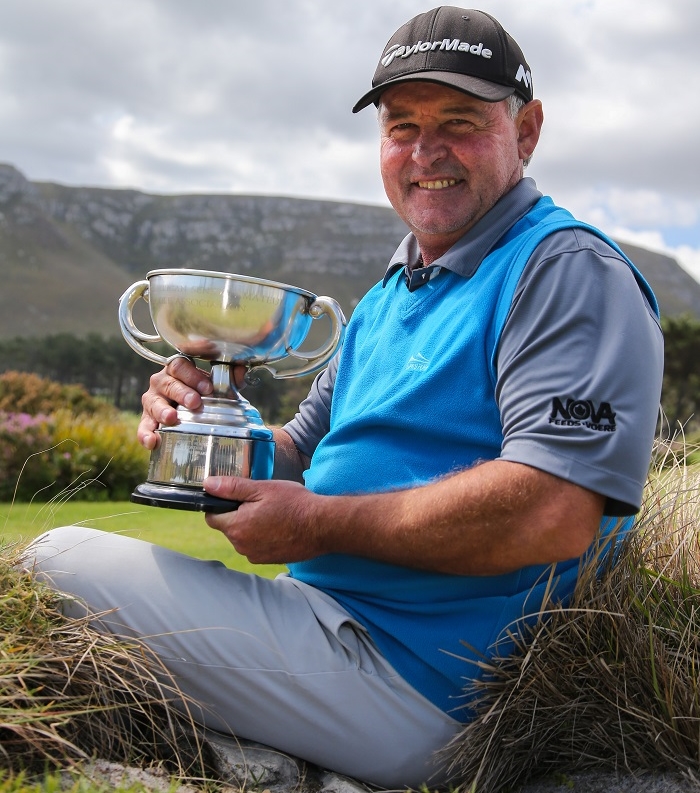 2017 SA Senior Amateur Championship winner Ferdie van der Merwe from Wellington; credit Roger Sedres / Image SA
The 51-year-old from Wellington stunned the field when he shot into contention with successive rounds of 72 in his debut on the senior amateur national circuit. Not surprisingly, the 'rookie' earned overwhelming applause after he defeated reigning Players champion Andre van Dyk at the first extra hole of a sudden-death play-off.
Van der Merwe started the final day three shots off the pace from former SA Mid-Amateur Stroke Play champion Graeme Watson, another SA Senior Amateur Championship debutant.
He trailed by five strokes after a double bogey at nine, but just when it looked as though Watson would set an imposing clubhouse target, his title bid abruptly collapsed. The Ekurhuleni golfer gave eight shots back to the field over the first six holes of the back nine and the chasing pack pounced.
A birdie at 12 helped Van der Merwe to shoot to the top of the pile, with Stephen Johnston from Gauteng and fellow Boland golfers Van Dyk and Francois le Roux also in pursuit.
Van Dyk, who stayed within two shots of his lead, bogeyed the last hole and set the target at six-over-par 222 with a round of 75. Van der Merwe – playing in the final group – had a two lead coming down the 18th hole.
"I hit two good shots, but I duffed my chip and three putted for a double-bogey," said Van Der Merwe after closing with a 78 to join Van Dyk at six-over-par 222. "I should have won it in regulation play, but once again my putter let me down. I struck the ball extremely well over all three rounds, but I couldn't sink a putt under eight foot to save my life."
The pair headed back to the 10th tee, where Van der Merwe mailed his tee shot straight down the middle. Van Dyk hit a huge drive that drifted down the left and finished just short of the fairway bunker. His approach to a pin, tucked back right, flew the green, while Van der Merwe hit his second pin high right.
Van Dyk chipped, but his effort raced past the hole and Van der Merwe also put too much pace on his birdie putt. However, when Van Dyk missed the return putt for par, Van der Merwe drained the "putt of his life" and his ball dropped to the bottom of the cup.
"I feel 10 feet tall," said the beaming Van der Merwe. "I've won more than 50 titles in club opens or Boland Golf Union events, but this is such a special moment.
"I've hit the ball so well all week, but the putts refused to drop. It was frustrating, but I had my partner Cornel (de Jager) on the bag and she kept me calm and confident that the putter would warm up. I holed a short one for birdie at 12, but it took another seven holes before it warmed up again.
"That last putt wasn't very long – maybe six feet – but it rolled on the perfect line all the way and when it dropped, I almost couldn't believe it. You know, I nearly didn't even enter. They told me I had to enter online and I couldn't figure it out, so if it wasn't for Mariette at Boland Golf Union, I wouldn't even have been here this week.
"I've played Hermanus just twice in the last 18 years. We had to endure three club winds in all three rounds and this week was a real test of patience, but what a fantastic test of golf. To beat some of the legends of the game and to win on the senior circuit has been a dream, but now it's a reality. I am sure this is how David felt when he knocked down Goliath."
Le Roux closed with a 75 to finish third on 223 in a tie with Watson, who signed for 82.
222 Ferdi van der Merwe 72 72 78 (play-off / first extra hole)
222 Andre van Dyk 71 76 75
223 Francois le Roux 74 74 75; Graeme Watson 72 69 82
224 Stephen Johnston 74 73 77
225 Craig Poulton 77 73 75; Rurik Gobel 75 75 75; Morgan Phillips 75 72 78
226 Jock Wellington 73 73 80
227 Brian Mampies 80 75 72; Stanley de Beer 75 76 76; Richard Bruyns 74 72 81
228 Archie Steyn 77 75 76; Colin Mavuso 75 71 82
229 Adrian Kriel 79 73 77; Japie Koopman 76 78 75; Pieter Cooper 74 75 80
230 Mzuyanda Zingela 81 74 75; Schalk Naude 80 75 75; Ramon Rahme 74 72 84
231 Conrad Rauch 72 79 80
232 William Skinner 76 75 81; Ivan Palframan 75 77 80; Derik Piek 75 77 80; Phillip Bierman 74 79 79; Attie Burger 74 77 81
233 Christian Pienaar 84 72 77; Fanus van Niekerk 79 75 79
234 Mark Hair 83 75 76; Mitchell Steel GBR 81 75 78; Steve Smit 80 74 80; Manie Daniels 79 76 79
Written and released by Lali Stander on behalf of GolfRSA, a SAGA and WGSA Not-For-Profit company.
CAPE TOWN, 2 October 2017 – The South African Golf Association (SAGA) and GolfRSA is delighted to announce a new and exciting collaboration with multinational professional services network PricewaterhouseCoopers as the main sponsor and leading South African automotive retail company Super Group Dealerships as a supporting sponsor of the prestigious Senior Players Championship in 2018.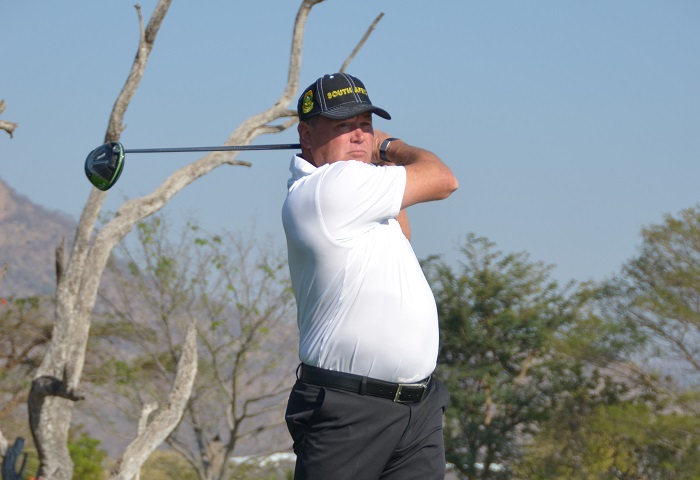 PHOTO – Players Championship defending champion Andre van Dyk; credit GolfRSA.
"Golf and business go hand in hand and PricewaterhouseCoopers and Super Group are highly reputable partners," said SAGA president Geoff Taylor. "Both companies are a perfect fit for this very prestigious, limited field championship and we could not have asked for better partners to help us grow the senior game in South Africa."
"The Senior Players Championship launched in 2012. Business entrepreneur Philip Viljoen approached SAGA with the vision of hosting a unique tournament that would reward the top 50 ranked senior amateur golfers at the end of each season. He sourced the funding himself and the first edition was played at Pecanwood Country Club in 2012. In 2013, the event moved to its permanent home at Sun City.
"With its limited field format, the Senior Players Championship has become one of the most sought-after ticket in senior amateur golf. We believe the support of PricewaterhouseCoopers and Super Group will further elevate the status of this championship."
The first edition was won by Philip Bierman, while the champions over the past five years include Peter van Coller, Lynton Beckett, Morgan Phillips, Ben Kleynhans and 2017 winner Andre van Dyk.
Van Dyk's success at the Gary Player Country Club came with a healthy boost in the senior amateur rankings and, having maintained his top five standing through the season, he was selected to the SA Seniors Team. The Boland senior made his international debut for South Africa in the Fellowship Cup Test against India at Leopard Creek last month.
GolfRSA CEO Grant Hepburn, who hosted the Indian Golf Union at Leopard Creek, welcomed the commitment from PricewaterhouseCoopers and Super Group.
"Participation in the Senior Players Championship is by qualification only, hence this event promotes and encourages a strong, highly competitive senior amateur circuit," Hepburn said.
"It is fantastic that James du Preez from PricewaterhouseCoopers and Graeme Watson from Super Group – both competitors on the senior amateur circuit – recognized the value of this event and campaigned to sponsor the Senior Players Championship. The support of these two influential partners will most certainly elevate the status of this event even further."
Du Preez, Client and Market Development leader Africa at PricewaterhouseCoopers South Africa, said the senior amateur circuit is a good fit for the company.
"We are excited to extend our global golf sponsorship to include the Senior Players Championship," Du Preez said. "Sport sponsorship plays a huge role in our overall marketing strategy. Through our sponsorships we connect with our stakeholders.
"The core values that underpin the game of golf are aligned with our own, most notably that of respect, integrity and excellence. This partnership gives us the opportunity to engage with the seniors and create leverage in this market segment, while we actively contribute by promoting a stronger, more competitive senior amateur circuit."
Super Group CEO Automotive Graeme Watson said the Senior Players Championship represents a first national golf sponsorship for the Super Group.
"This is a very exciting opportunity for us," said the former SA Mid-Amateur Stroke Play champion and former national player.
"We have enjoyed strong support for our business from senior golfers in general over the past few years and this is a nice opportunity to give something back in return. We like the Senior Players Championship concept and the venue is superb."
"Our partnership with this prestigious event not only provides us with an opportunity to promote our business among the senior competitors, but also across the entire amateur golf spectrum."
The cut-off date for the 2018 Players Championship at the Gary Player Country Club from 10-11 February is 30 November 2017.
Written and released by Lali Stander on behalf of GolfRSA, a SAGA and WGSA Not-For-Profit company.
Lali Stander