Fancourt Open

Southern Cape Senior Open

Fancourt Senior Open

Oudtshoorn Open

SC Mid-Am Open

Plettenberg Bay Open

Goose Valley Open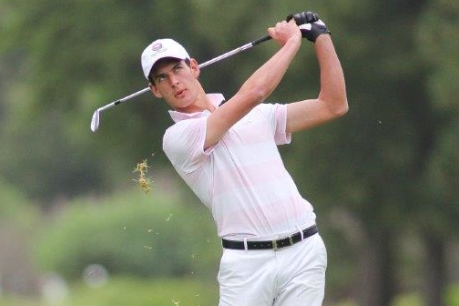 The inaugural Fancourt Open was won by Hans-Jurie Human from Albertinia. Hans-Jurie (-4) and Bradley de Beer (-4) was tied after 36 holes, and Hans-Jurie won the playoff on the Montagu course.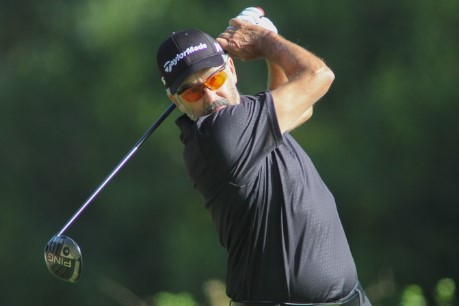 The 2017 Southern Cape Senior Open was won by Francois Le Roux from Boland. Francois had two rounds of 71 to claim his second Southern Cape Senior Open title.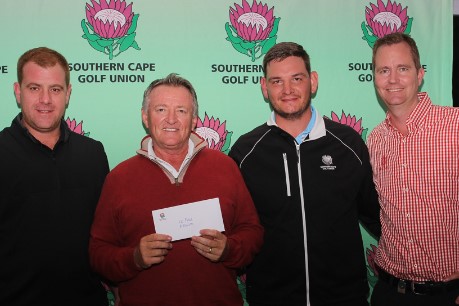 The 2017 Fancourt Senior Open was won by Steve Williams from Central Gauteng. Steve had rounds of 75 on the Outeniqua Course, and shot 69 on the famed Montagu Course at Fancourt to win by 3 shots.

(Photo from Left: Billy Valentyn (SCGU Director of Golf), Steve Williams (2017 Champion), Juan Nel (SCGU Committee Member) and Tyronne Farrell (Fancourt Director of Golf).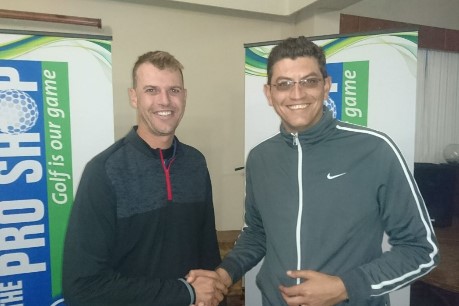 Meyer Potgieter (-2) claimed his maiden Open victory on the SCGU OOM Series, with two solid rounds of 71 at the 2017 Oudtshoorn Open. Congratulations Meyer!
(Photo from left: Meyer Potgieter with Louis Fourie from Oudtshoorn Golf Club)

Eastern Province golfer, Naldo Claassen (-3) is the 2017 Southern Cape Mid-Amateur Open Champion after beating Western Province legend, Gerlou Roux (-3) in the 4 hole playoff at Fancourt Golf Estate. Southern Cape stalwarts Henk Geldenhuys (-1) and Nicholas Mitchell (+1) finished 3rd and 4th respectively.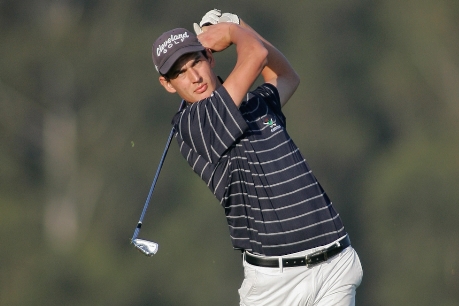 Hans-Jurie Human showed some character by winning the 2017 Plettenberg Bay Open!! Hans-Jurie struggled with an opening round of 5 over par 77 in the morning, and then came back firing with a final round of 8 under par 64, to claim his second Open title in the Southern Cape.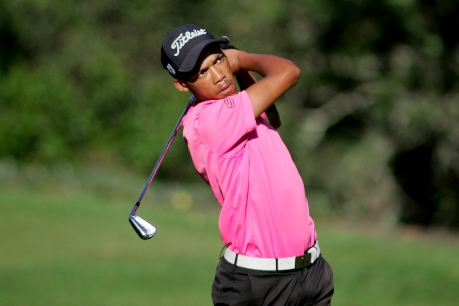 Franklin Manchest returned to the winning circle with some solid ball striking in the 2017 Goose Valley Open. Due to the strength of the field the course was setup fairly tough, and it was great to have Frankie back lifting trophies again. He had rounds of 70 & 72 (-2).
ASSOCIATED UNION PARTNER offering GOLF TOURS / ACCOMMODATION / TEAM CAMPS

Golf In Heaven will be offering golf tours and accommodation packages through their associated union partner, Southern Cape Golf Union. They will act as a service provider to all our affiliated clubs in the Southern Cape. Golf In Heaven is well equipped to handle all the daily accommodation and golf tour requests. They also specialize in team camps, and will have accommodation packages for the numerous tournaments we annually host in the Garden Route. For more information please visit www.golfinheaven.co.za

The Southern Cape Golf Union represents 26 affiliated clubs and approximately 7200 registered male and female golfers. The clubs are situated in the picturesque Garden Route and southern parts of the Karoo.
We pride ourselves in producing players of integrity and quality who uphold the good name of Southern Cape golf both on and off the course. The office of SCGU is situated in the grounds of the magnificent George Golf Club, Langenhoven Road, George.