TOYOTA CITY, Japan (15 June 2018) – The GolfRSA Boys and Girls teams both needed one big push on the last day of the 2018 Toyota Junior Golf World Cup, supported by JAL, and Martin Vorster and Caitlyn Macnab delivered at the Chukyo Golf Club.
Vorster fired a course record to boost the boys to a fifth place finish in the Boys Competition, while Macnab also saved her best for last to help the girls to eighth overall in the Girls Competition on Friday.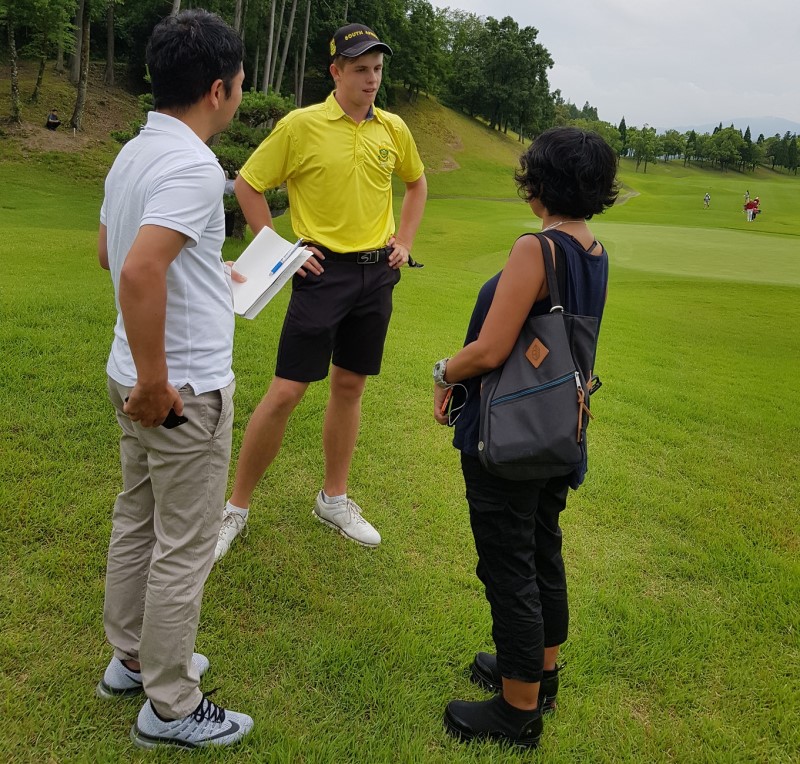 PHOTO 1 – GolfRSA Boys player Martin Vorster is interviewed by local press after shooting a course record 10-under-par 61 in the final round of the Toyota Junior Golf World Cup, supported by JAL; credit GolfRSA.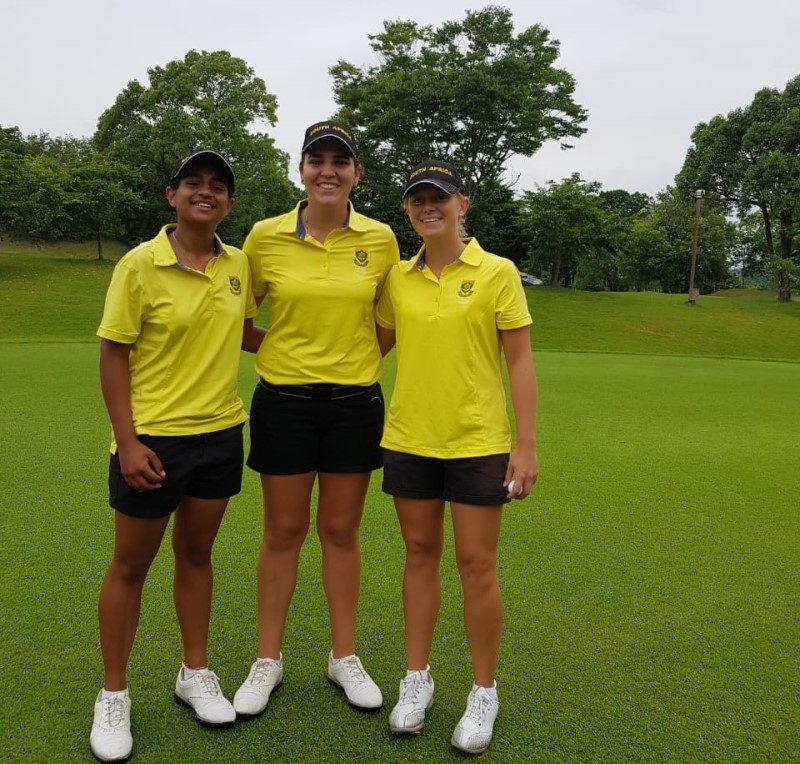 PHOTO 2 – GolfRSA Girls Kajal Mistry, Symone Henriques and Caitlyn Macnab at the Toyota Junior Golf World Cup, supported by JAL; credit GolfRSA.
In a flawless exhibition at the Ishino Course, Vorster fired 10 birdies to anchor the GolfRSA Boys with a 10-under 61. Western Province duo Deon Germishuys and Ayden Senger produced a pair of 70s for a final round 201 and the team finished on eight-under-par 844.
Denmark carded a 10-under 203 in the final round to come from seven strokes back to win the Boys Competition on 23-under 829. It is Denmark's first title in the 26-year history of the event.
Japan ran away with the Girls Competition, finish 10 strokes clear of Korea on a winning total of 22-under 554.
Macnab from Ekurhuleni fired a two-under-par 70, while Gauteng pair Kajal Mistry and Symone Henriques posted 77s for a final round 147. Their best score saw the team finish on 603.
The final round 12-under 201 from the GolfRSA Boys was the lowest round on the last day and the best round of the championship.
Vorster made a blistering start with seven birdies on the bounce from the par three second.
"It could have been 59, but it's still three shots better than my previous best round, so I'll take it," said the reigning Reply Italian U-16 champion.
"I hit pitching wedge from 148 meters at the second. The ball was pin-high right and I boxed the 10-footer for birdie. That started me on a nice little birdie run."
The Louis Oosthuizen Junior Academy player cleared the left fairway bunker at the third, hit a three-quarter pitching wedge from 126 metres and walked in the two foot birdie putt. At the short fourth, he landed an 8-iron 15 foot from the pin and holed the left-to-right downhill putt for birdie.
"I just felt really good over all my clubs and I didn't make any serious mistakes," said the 17-year-old Pinnacle Point golfer, whose other gains came at eight, nine, 11, 16 and 17.
"My chip lipped out at 12 and I missed 10-footers for birdies at 13 and 14, so I was really pleased with the birdies at 16 and 17. Especially 17. I hit a 9-iron into the uphill green and holed a 20-foot putt for that one. This course is a tough monster, especially if you're struggling with something. I was really pleased that I pulled it all together in the final round to help the team finish fifth."
Senger had a poor opening round, but rallied with a counting score in every other round.
Coming off 17, he had just made bogey to go back to level, but he vowed to finish under par. He hit three-wood off the tee, a gap-wedge to 12 foot and boxed the putt for his 70.
Germishuys, who has struggling with his wedges, had another up-and-down day.
"Deon says his swing propels the ball 10 to 20% further than he expects and it was evident at the eighth and ninth holes," said team manager Eden Thompson. "He was three under through seven, but he flew a gap-wedge 20 metres over his target at eight and the same happened on nine where a good wedge came out with no spin. He battled through more of the same on the back nine. He eagled 16 to go two-under, but gave another shot back at 18 for his 70.
The final member of the team, Werner Deyzel, closed with a non-counting 72.
"Werner hit it great and battled on the greens or he hit it poorly and scrambled well all week," said Thomson. "Today was another scramble day, but when your team's non-counting round is a one-over 72, then it's a great team day.
"Overall, the guys have not played badly, but again small things, some poor decisions and unforced errors put us in a fight for fifth place rather than a medal spot. GolfRSA National Squad sport phycologist Theo Bezuidenhout and I have made it clear throughout all our tournaments together that we concentrate on process, rather than scores.
"The guys got involved in each other's games during the first round and we believe this was the reason for their small "meltdown" on the back nine.
"The team was lying third at the turn, but finished the day joint 10th. For the next three rounds, the lads adhered strictly to the policy. No-one knew what the other was doing and the results speaks for itself."
Macnab was thrilled with a sub-par round after two frustrating days at the start of the week.
"I had a much better day, although it could have been better," said the Serengeti junior. "I missed some opportunities, but I made three birdies and only one bogey and that really pleases me. It was a much more solid performance for me. There are some things I need to work on, but I'm also coming away from this experience with a lot of positives."
Womens Golf South Africa President Sally Greasy said she was pleased to see Macnab live up to her rising star status.
"Caitlyn really battled over the first two days, but she began to find her stride in the third round," said Greasley. "She looked so much more comfortable on the course in the final round. She lipped out on several possible birdies, but her course management and ball striking was excellent. Even when she left herself with a difficult up and down, she made it.
"Kajal had a poor front nine, but gathered herself at the turn and came back in par, while Symone made a couple of very good saves from off the green and played steady golf.
"The girls were a credit to South Africa on and off the course. Despite their disappointment at not being further up the leader board, they all admit they have gained immeasurable experience playing in this championship. Immense patience was required, and birdies were very hard to come by, especially if the drive didn't land on the fairway, or the second shot on the green. All in all it was a great event, very professionally run and one we will fight to qualify for again next year."
Boys Team Final Team Standings
829 Denmark 210 202 214 203
831 Spain 203 209 207 212
833 Thailand 210 210 209 204
841 Japan 208 209 214 210
844 South Africa 215 214 214 201
851 Argentina 213 213 217 208
852 Mexico 211 218 217 206
853 Korea 205 215 224 209
855 Sweden 213 216 214 212
857 New Zealand 221 213 211 212
859 United States 216 221 217 205
860 Italy 215 215 214 216
864 Colombia 214 218 220 212
874 Canada 218 223 223 210
900 Morocco 215 223 240 222
Girls Team Final Team Standings
554 Japan 136 143 139 136
564 Korea 140 138 146 140
578 Sweden 143 146 145 144; Canada 142 148 141 147
579 United States 145 148 144 142
585 Colombia 147 144 147 147
593 New Zealand 144 152 153 144
603 South Africa 150 154 152 147
609 Italy 149 159 148 153
Written and released by Lali Stander on behalf of GolfRSA